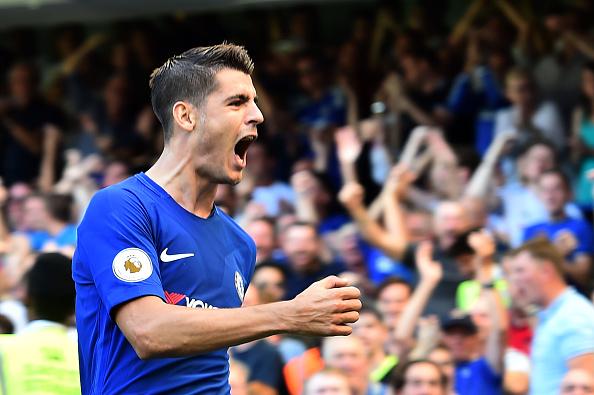 Chelsea earned another 3 points, this time in a comfortable 2-0 win at home against Everton.
Cesc Fabregas, though still being vulnerable at defence, was brilliant in the attacking third. He scored the opening goal assisted by Morata, who also happened to score the winning goal.
Bakayoko, who was substituted in during the last quarter, didn't amaze much and often got dribbled out – something to look for by Conte before the next match. Alonso kept showing significant progress in both the defending and attacking ends.
No attacking threat from Everton
Everton, on the other hand, failed to give any significant attacking threat to the home team despite the very few occasions in the second half which also got cleared by Chelsea's compact defence.
Lack of depth in Everton's formation
The visitors were also not that impressive in showing horizontal or vertical compactness especially at the middle of the park.
Blues easily dominated the possession via diagonal passing all-pervading to deeper areas. In fact, by almost all of the first half, Chelsea used deeper areas than the flanks to initiate their attacks.
The lack of depth in Everton's defence allowed Blues to penetrate and dominate the midfield most of the times and to maintain possession even in the attacking third while keep threatening the opposition. The opposition could only show aggressive pressing while crowding up inside the box to clear threats.
Even though Everton did improve its compactness in defence and even crowded up their deeper areas by the second half forcing Chelsea to make long passes and shift to the flanks at many occasions, but still, their defence was not organized enough to stop Chelsea reaching the attacking third.
Chelsea lacks consistent attacking partnership
Chelsea could even score more given the chances and off-target shots they got to make including Pedro's bicycle kick which could have been an awesome goal.
However, since Chelsea still lack consistency with their attacking partnership while Morata needs time to become a more aggressive striker like Costa, they are yet to become a real attacking threat in front of more organized and rigid defence.
Chelsea's well-organized defence
Concurrently, the visitors were also forced to stay back given organized and highly compacted defence by Blues both horizontally and vertically.
This made the opposition use long passes almost throughout the game, towards their attacking third and from one flank to another, but ended up losing possession instead.
In the second half though, Everton signaled some attacking threats within Chelsea's box, got quicker in counterattacking, and improved the distribution of players to coordinate their long passing. But Chelsea's defence remain organized while their strong marking within the box cleared many threats.   
Blues will now be back in action after two week with an international break ongoing. Hopefully Conte will figure out more sustainable defensive and attacking partnerships to make them survive and thrive in the more intense fixtures ahead.
Written by Farkhanda Jabeen
Like O-Posts on Facebook
You can also follow O-Posts on Twitter @OPosts