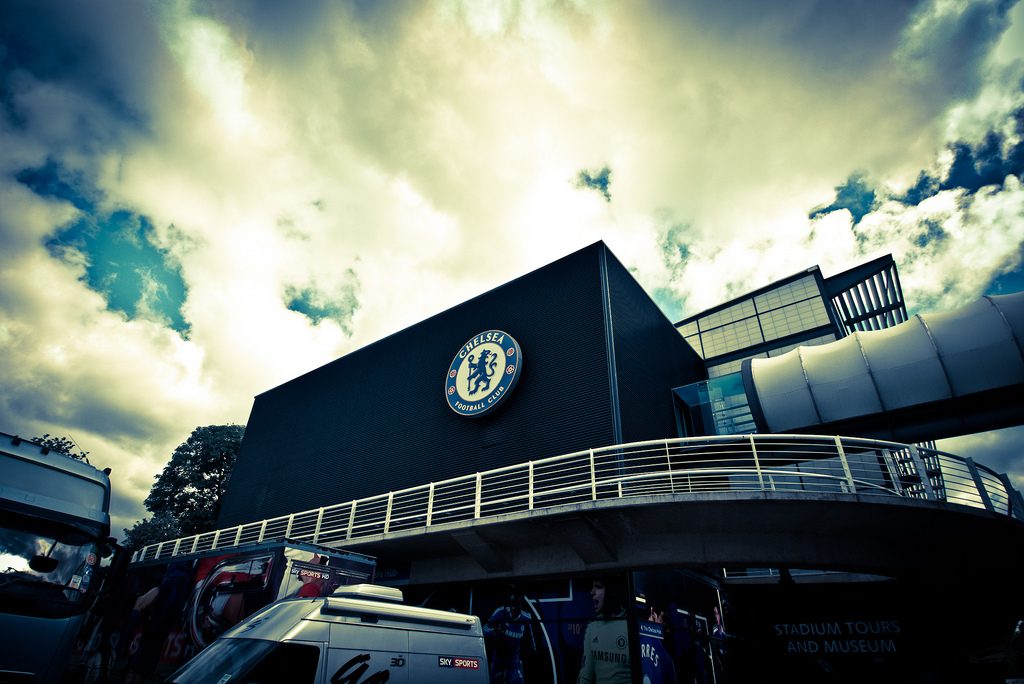 He moved his head slowly from left to right. Then right to left. Right, left, right, left; he slowly repeated the motions smiling as he watched the glinting line shimmer across the lustrous surfaces.
He loved the way the line sunk as it crossed over the letters that were etched into the silver surfaces of the trophies that shone in the glass cases that filled his trophy room.
There were huge portraits of various seminal moments of his careers that included award ceremonies, trophy-winning moments and memorable goals. There were various shirts too of players that he had exchanged shirts with but one shirt stood out from among the rest.
The name, Woodcock, was imprinted on the back of a blue shirt along with the number 9. George Woodcock took a sip of his scotch and smiled. He was and would be the best number 9 that had ever played for Chelsea.
The Chelsea number 9 shirt had been considered cursed with the likes of big name strikers such as Torres, Crespo and Falcao all failing to live up to their names.
"Well, fuck all of them," thought George. "The curse of the number 9? Bullshit. They just weren't good enough."
He had broken more records than all the trophies and medals in the room: Most goals scored in London derbies, highest scorer for England, most hat-tricks in the league, most league titles won as a player; along with various other trophies and awards.
He had received multiple offers from great clubs such as Real Madrid and Bayern Munich but had decided to stay put at Chelsea and become a legend, which he had.
"When are they going to build the damned statue of me? After I die?" He thought to himself.
But life hadn't been so nice to him, nor had he been such a great player before. His father, Richard Woodcock, had been manager at the London-based football club Crystal Palace and so George had been exposed to football ever since he was young.
He had fallen in love with football since he was a little child and had quickly caught on to the sport. His father had identified his talent and immediately enrolled him into the renowned (and infamous) Chelsea Youth Academy.
He had been abused by his teammates from the day the coach had called out his name at the first training session.
"Woodcock," he remembered one of them saying, "He ain't got no dick. All he's got is a wooden cock!" He still remembered that laughter which followed him for years and haunted him.
"I'm the one laughing now," he smirked as he took another sip of the scotch.
George had played as a striker in the beginning but with his teammates constantly making fun of him, he had lost a lot of confidence and so his abilities in front of goal had started to diminish. With each miss, they would shout even more abuse at him until eventually the coach had banished him to the bench.
Fortunately for George, a growth spurt at the age of ten meant he was now the tallest player in the group. Needing a defensive midfielder desperately, the coach had decided to convert him into the position because of his height and strength.
He had done fairly well in the position but the one flaw had been that he was too afraid to shoot. There were situations where he could easily score but would instead end up passing to a teammate ruining the chance.
"Even the greatest of footballers miss more chances than they score," his father and the coach had advised him. "You can't score if you won't try." But he was still afraid of missing because of the insults he would receive.
"You shoot like a girl," one of his teammates would say. "Well, that explains your name Woodcock!"
School was torture too. He was a loner which was surprising considering how footballers were worshipped. But it was his name, Woodcock.
"No one wants to hang out with someone who was called Woodcock," he would tell himself.
Even he wouldn't have either. He hated his name. He couldn't understand why anyone would want a name like that. He felt it had ruined his reputation. He was just as good-looking as the other popular kids in the school and yet, he felt lowly like the nerds. There were plenty of kids with weird surnames too such as Shufflebottom, Nutter, Winterbottom, Blewitt though he felt they weren't given the slack he was given.
George had this habit of always looking down whenever the teacher called attendance and the whole class would laugh at his name. He always looked down whenever they joked about him. Heck, he did that even when there were new people nearby.
He felt inferior because of his name when in reality, he hadn't realized that those kids did not let the jokes get to them like George Woodcock had. They did not let them ruin their confidence and that was really all people looked for.
"They're only going to joke more if they see it affecting you," was something he had heard a lot. But it was in his nature. He couldn't do anything about it.
No one would date him either. His teammates would hang out with girlfriends and mates at pubs every night while he would be at home wanking off to porn mags or playing video games. He was poor in studies too, often failing his exams and barely scraping by to the next grade.
Football was the only thing he was good at.
Football was his life.
More than half of each day was spent with a football. He would kick it against the wall when he would wake up, brush his teeth while juggling it, eating lunch in his room while rolling it under his feet and kick it against the wall while cramming for a test.
He went to football training every day after lunch and often, at night, when he couldn't sleep, he would play football alone in the backyard. The grass in the backyard was always well-cut because his father followed his managerial ideals within his own home too.
There were times when George would spot his dad looking from the window above and smiling as he practiced. His dad always liked how he devoted himself to football. His mother was not like his father, however. She did not support the path his son was taking. She felt education was more important than football and she would constantly yell at him about it.
Bad grades, because of football, fever, because of football, woke up late, because of football, broke the plate, because of football, sneezed, because of football.
This would lead to his parents often bickering in front of him while he watched in awkward silence.
"He's not going to become anything if his grades stay like this, Hugh!" She would argue.
"You can't force the child, Matilda. His talents lie in football. Have you seen the way he plays? He's a natural."
"Football is not a safe career path," she would retaliate. "You're a football manager. You know that not everyone gets to become a footballer."
"But he loves it, Matilda… "
"I don't care what he loves. I'm his mother and I only want the best for him."
His father would always visit him in his room after his mother had given him a lecture about how low grades would be the end of him. He was very supportive and would constantly motivate him. It was, perhaps, one of the main reasons why he had never given up on his dream.
"You're meant for greatness," his dad would tell him. "Keep your head down and one day you'll be up there with the elites. Up there with Drogba."
Drogba was the striker George Woodcock looked up to. He had posters of him in his bedroom and religiously watched any videos of him he could find on YouTube. Drogba was the definition of a complete striker possessing pace, strength, finishing and heading ability.
The legend was still scoring goals at the retirement age of 37 at clubs in the US, even though he was a shadow of his former self.
"One day, I'll be like him," George would think to himself. "One day."
But even if he did, there was one problem.
All the greatest goals ever scored had great moments of commentary magic. Commentators yelling: 'AGUEROOOO!', 'DROGBAAAAA!', 'Luis Suarez… INCREDIBLE! MAGICAL! GENIUS!' but they would practically start laughing out loud if they ever said his name.
'WOODCOCK!' No, that just did not sound right. It was laughable.
Perhaps being a defensive midfielder was for the best. That way the pressure of scoring goals would not rest on his shoulders and he would go unnoticed.
But that all changed one match day.
(To be continued……)
Written by Abdullah Riaz
Follow him on Twitter @Abdullah_Rz21
Check him out on Facebook
Take a peek at his Facebook page, Poetics101
For more of his fascinating work, have a look through his Wattpad page @haunted_pizza
Last but not least, check out his blog: Poetics101