In recent years, Major League Soccer has entered a new height in American sports.
MLS revenue, attendance, social media popularity, television ratings, and net worth of clubs have set a new standard for the league.
American sports are no longer four major leagues, but five. It must be music to the ears of owners, players, and fans that every measure of growth in Major League Soccer is actually growing.
But, one thing is still missing and it can't be measured on a graph—a face.
An ambassador. A guardian. An identity to the league.
For Major League Soccer, it has been and will continue to be the most ambitious, difficult, and crucial task to achieve successfully.
Competitor 'faces'
Among Major League Soccer's competition domestically, other American sports leagues easily have a face. In America's most popular sports league, the National Football League, there is Tom Brady, Ezekiel Elliott, Odell Beckham Jr, and many others who dress up in pads and helmets every Sunday during the fall.
Lebron James, Kevin Durant, and Stephen Curry are just a few who play in a best friends league known as the National Basketball Association.
In a league where scratching, chewing, and spitting is more common than an actual play concurring on the field, Major League Baseball, Kris Bryant, Anthony Rizzo, and Clayton Kershaw lead the league in popularity.
And in the smallest of America's four, there is Patrick Kane, Sidney Crosby, and Jonathan Toews skating in the manliest league, the National Hockey League.
On an international footballing perspective, MLS is further behind than domestically.
In the Chinese Super Rich League, Hulk, Oscar, and Jackson Martinez are among the dominant names.
In England, the Premier League is headlined with the talents of Eden Hazard, Zlatan Ibrahimovic, and most expensive player ever, Paul Pogba. Generational players such as Lionel Messi, Cristiano Ronaldo, and Neymar run wild in La Liga.
While in Serie A, legendary players such as now retired Francesco Totti and ageless goalkeeper Gianluigi Buffon, are the foundation of Italian club football. These are just a couple of examples, but each league has it.
Money problems
What about MLS?
After making it through a decade, MLS realized it was time to join America's big four. It required them to take a risk to spend even more money that they did not have.
In fact, according to a 2015 ESPNFC article, the league is still not turning a profit and as MLS commissioner Dan Garber emphasized, "[MLS] [is] still in investment mode."
Money speaks to footballers. In 2007, MLS splashed the cash and created the designated player (DP) —nicknamed the Beckham Rule.
It meant clubs could bring in "big" names and not affect their limited salary cap. In turn, it would allow clubs to market to a larger audience by displaying better quality football.
Big names
As of the start of this past 2017 season, every club is allowed to acquire up to three players who can be paid lucrative contracts not directly impacting the club's salary cap.
It was a great idea to keep the playing field fair among each MLS club, as well as, boost growth by having big names to increase revenue sales.
Following Beckham's move from Real Madrid to the Los Angeles Galaxy in 2007, there was an 8.2% increase in league attendance. Even the Galaxy's road attendance was 61% higher than team No. 2. It seemed to be working.
Big names came to Major League Soccer following Beckham, and as MLS continued to grow, so big the names in stature. This included: Italian maestro Andrea Pirlo, Liverpool's captain Steven Gerrard, Chelsea legends Frank Lampard and Didier Drogba, World Cup winner David Villa, former Ballon d'Or winner Kaka, and Arsenal great Thierry Henry.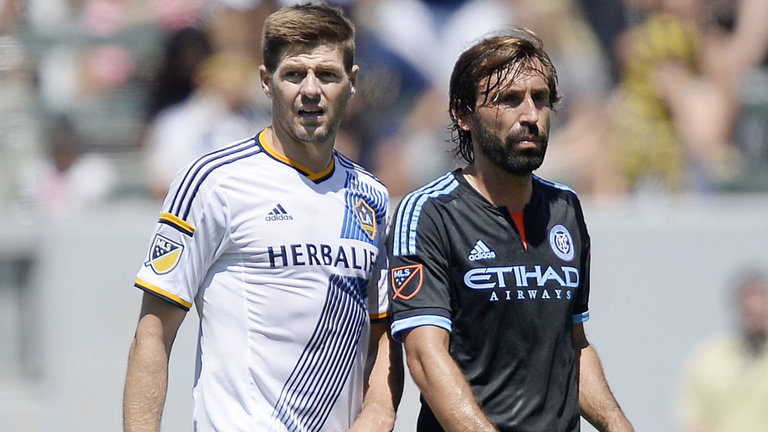 MLS offered a new life experience, a chance to impact the game here, and a sizable paycheck to compensate for their questionable efforts.
Past their primes
However, it quickly turned into a nightmare, as it evolved into clubs obtaining older players past their primes. Retirement league plagued the headlines domestically and internationally.
Older players knew they could come to America to make some money and enjoy the competition with ease.
Kaka, Henry, and Villa were the youngest of the list at 32 years of age when they started kicking a ball in America's top footballing league.
It did help increase revenue. However, these types of players are or were never the true face of MLS because their careers were not etched in America.
They were also older, slower, and lacked a future in America as their contracts only lasted, or would, for a couple of years. It was always about short a term growth.
David Beckham is the most compelling name to have come because he the first. He is known for that. He was, for a while, the face of the league.
American returnees
Before the creation of the DP, MLS had no choice but to go with American players. Landon Donovan is the greatest American player to date and in Major League Soccer's history.
He is the all-time leading scorer for the US National Team and MLS. He played in four World Cups and was the leading discussion in America sport's world when Jurgen Klinsmann left him out of the 2014 World Cup squad.
During his career, he was the face of MLS, but never correlated to league popularity and growth—to no fault of his own. He was just playing in a time where MLS was still an infant.
As he got closer to his retirement, he became a legend and popularity rose—thanks to Beckham. He too was one of the faces of MLS.
Once David Beckham voyaged to LA bringing in retirees, Donovan fell to the background. It did however open the door for Americans to come back to play here as money finally began to make sense.
Players such as Michael Bradley (TOR), Clint Dempsey (SEA), Jermaine Jones (LA), Tim Howard (COL), Jozy Altidore (TOR), and more, are Americans are making a few million dollars playing their trade of football in MLS.
Is there a potential flagbearer?
But are they the face of MLS? Yes and no.
They are older Americans who were the backbone of the national team with a buzz to their names, especially among the American soccer community. Fans love to watch their countrymen patriots play—and marketers know that.
They hype their names to be and create the face of MLS. At the same time, these Americans players did not build their careers here. Therefore, their legacy is cemented with the national team, and not MLS.
The closest superstar—face—MLS has been the Atomic Ant: Sebastian Giovinco. The Italian plays with skill and flair, scores beautiful goals, an MVP, and in the prime of career, but sadly no one outside the world of soccer knows who the hell he is.
So again, he is in the yes or no category.
A new 'face' will appear sooner rather than later
Does MLS truly have a face like other leagues around the world? Yes and no.
The true face of MLS might not be here for a while and that is okay. The league just needs to continue growing in popularity, financially, and most importantly, on the field talent level. Then the face will appear and last.
Written by Steven Jotterand
Follow Steven on Twitter @StevenJotterand
Like O-Posts on Facebook
You can also follow O-Posts on Twitter @OPosts