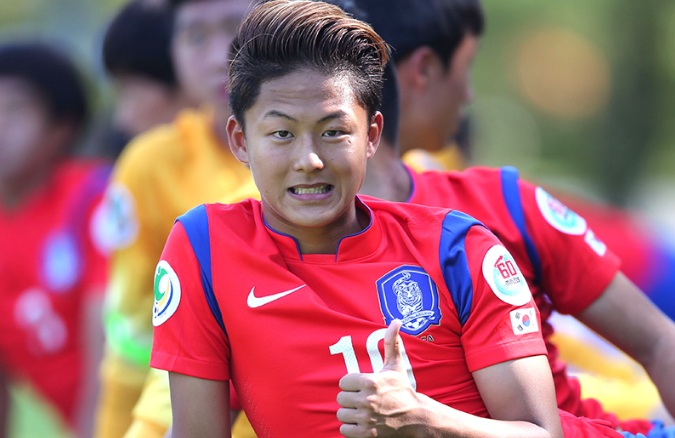 In early July, Lee Seung-Woo was promoted to Barcelona's B-side, along with his compatriot Paik Seung-Ho.
Dubbed 'The Korean Messi', Lee has the footballing hopes of an entire nation on his shoulders, as they hope that he can grow up to be the world-class creative talent that Korea has so far struggled to produce.
Lee's transfer to Barcelona in 2011 broke FIFA rules, and was one of the reasons behind Barcelona's recent transfer embargo. Unfortunately for Lee, it has also meant that he is banned from playing competitively for Barcelona until his eighteenth birthday in January 2016.
He would however be able to play competitively if he were sold to a different club, leading to speculation in the past that he might join Liverpool, Chelsea, or even Barca's biggest rivals Real Madrid, although a transfer now looks unlikely.
Despite not being able to play competitively for his club, he has been able to play for his country, representing them at various youth levels.
His most impressive performance was at the AFC Under-16 championships in Thailand where he scored five goals, including one where he dribbled the ball half the length of the pitch before scoring against Japan, and won player-of-the-tournament as South Korea reached the final where they lost to North Korea.
He made his debut for the Under-18's in the Suwon JS Cup in May this year. However, he was unable to have as much of an impact at this level than he has at previous levels, and it was his Barcelona team-mate Paik Seung-Ho who impressed the critics with his passing ability instead.
Lee's quiet performance suggests that he still has a long way to go before he is ready for the Barcelona first team, and his ban on playing competitively may slow down his progress.
But while some footballing prodigies such as Freddy Adu never quite make it at the highest level, footballing experts generally agree that Lee Seung-Woo has the potential to become a world-class player in the future.
Written by Steven Price
Check out more of his work on everything South Korean football at the excellent K-League Footy
Follow his website on Twitter @Kleaguefootball
Like O-Posts on Facebook
You can also follow O-Posts on Twitter @OPosts