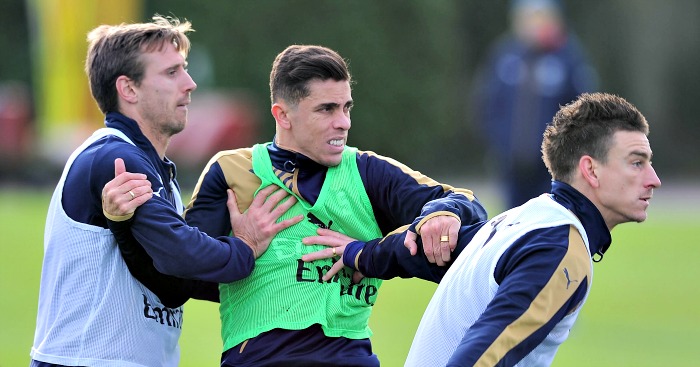 During Arsene Wenger's twenty year run as Arsenal manager, the chances of seeing a back three were about as likely as him signing Joey Barton.
However, during Arsenal's recent 2-1 victory over Middlesbrough; Wenger sent out a back three of Koscielny, Holding, and Gabriel. Koscielny held down the center position, with Gabriel to his right and Holding to his left.
Alex Oxlade-Chamberlain occupied the right-wing back position, while Nacho Monreal did the same on the left.
Why the sudden changes?
What prompted Arsene to make this change to the formation, especially at this point in this season? Was it a tactical plan Arsenal has been working in training and Arsene was just waiting for the right time to implement it?
The evidence we have mainly points to something completely unrelated to tactics, Arsenal simply needed a change.
Arsenal were in mediocre form at the time. Not only were the results sub-par, but fans were really starting to turn on the players.
This all came to head at Selhurst Park when the visiting Arsenal fans chanted "You're not fit the wear the shirt!" at the players after the final whistle.
Undoubtedly, the lack of information surrounding the manager's future played into that as well as the contracts of Ozil and Sanchez. That being said, the product on the pitch was poor.
Over recent years Wenger's side has been criticized for it's lack of "mental strength", (ironic considering Wenger always references just that in his post-match pressers) steel, and other macho characteristics.
There is certainly an element of truth to that considering Arsenal's away record against the top six and the usual capitulation against Bayern in the Champions League. While those did apply at Selhurst Park, Arsenal demonstrated qualities you would never associate with a Wenger side.
Arsenal were slow, leggy, uninspiring, and lacking in creativity.
A hail-mary?
With his job on the line and the fans seemingly turning their backs on the players, was this a hail-mary to save the season and possibly his own job?
Since the Middlesbrough match Arsenal have stuck with the back three. Oxlade-Chamberlain has assumed his right-wing back spot with Hector Bellerin hopping in for support. The same goes with Nacho Monreal and Kieran Gibbs on the other flank.
Koscielny has been a mainstay in the center, with combinations of Holding, Gabriel, or Monreal flanking him.
Granit Xhaka has retained his spot as the holding midfielder, partnered with Ramsey. The forwards and wide players have consisted of a combination of Giroud, Alexis, Welbeck and Ozil.
During this six game stretch with the back three Arsenal have won five and dropped one, while scoring nine goals and conceding four. The results look good on paper, but on the pitch it very much looks like a work in progress.
None of these victories have been wildly convincing apart from the 2-0 win over Southampton. Arsenal were able to advance past City at Wembley, which they probably were fortunate to do considering the number of chances City created.
An uninspiring, deflected-goal win over Leicester came next, followed by an absolute drubbing by Spurs at White Hart Lane. Then Wenger finally got his victory over Mourinho, who quite frankly did not set up to score in usual fashion.
Shaky victories
In the two matches Arsenal have been really tested (City and Spurs), they have looked shaky and even in the victories it still looks like a team trying to figure themselves out.
All of that may not be on the defenders themselves as the midfield and forwards can often get exposed. For example, when Ozil plays out at the right, the Ox usually gets left out on an island having to mark the opposing teams left winger and marauding left fullback.
The middle of the park gets open when Ramsey makes forward runs, leaving the un-speedy Xhaka to mop up as best he can.
While there are certain deficiencies, the formation has allowed some players to flourish. The Ox has look great at right-wingback, Monreal looks more like his old self, and whether a product of the formation or not — the attack looks slightly more fluid.
All that aside, it must be mentioned since Petr Cech returned from injury, he's arguably been Arsenal's most important player. Over this stretch, his form is reminiscent of what Arsenal fans had envisioned when he was signed, constantly making important saves, while keeping his team in the game and often winning them points.
But, why? Why now and why this? The back three is Arsenal Football Club looking in the mirror. It's uncertain and unsure of itself. At times it looks like a 3-4-3 and at others a 3-5-2.
Will this be Arsenal's future formation?
Sometimes it does look rather effective and at other times rather unconvincing. Is this really Wenger's plan for the future? I doubt it.
It's clear to me Arsenal needed a change and Arsene sensed that. but he's naturally a stubborn man.
Was there some tactical reasoning? I'm sure there was, but this was a decision made by a man who had seemingly lost the ability to motivate his players. Sometimes you just need change.
While it hasn't look overly convincing, Arsenal march on to an FA Cup final and a possible late push for a top four finish. Perhaps the back three itself is irrelevant and rather a signal for big changes to come at the club. Probably not, though.
Will Arsenal open next season with three at the back? It's hard to say.
That might all depend whether the Frenchmen takes his usual spot on the sidelines, or for the first time in twenty years; it's someone else.
Written by Kyle Keenan
Follow Kyle on Twitter @kyleskeenan
Like O-Posts on Facebook
You can also follow O-Posts on Twitter @OPosts