Arsenal had a disastrous 2016-17 campaign.
For supporters, pundits, and the club, the idea of a disastrous season just was not possible. This is Arsenal Football Club after all.
Wrong they were as it took only one match to prove their worst nightmare. In fact, it was match day one against Liverpool at the Emirates.
Jurgen Klopp's men ran wild over Arsene Wenger's, and at one point, Liverpool were leading 4-1 before Arsenal mounted a failed comeback.
The game finished 4-3 for Klopp's Reds as questions began to swirl for Wenger, who was in the final year of his contract.
The deficiencies of one match plagued Arsenal the entire season
There was no better highlight than the awful display in the Champions League—getting knocked out for the sixth straight time in the round of 16, and this time by an astonishing and humiliating aggregate of 10-2 vs German champions Bayern Munich.
Finally the Cherries to finish the season, first being how Arsenal lost ground on finishing top four—meaning no Champions League football next season.
Then, finishing below bitter rivals Tottenham for the first time in 22 years, with a disgusting display of football in a 2-0 loss at White Hart Lane April 30th.
Even though Arsenal won a record 13th FA Cup, the season was a total failure
Arsenal are nowhere near Chelsea, Manchester City, Tottenham, and Liverpool.
And if they want to return to Champions League football next season they will need to address their problems ASAP. The biggest problem being one money cannot buy—a captain.
In football, the one thing that stands above all else is will, or heart
Unlike what Arsenal were this past season, clubs with heart, like, 2003-04 Arsenal, 2009-10 Inter Milan, 2011-12 Chelsea, 2011-12 Manchester City, 2012-13 Borussia Dortmund 2013-14 Atletico Madrid, and 2015-16 Leicester City—to name a few—were able to hold on a precious point on the road with 10 men for 30 minutes, come back from a goal down to grab three important points, or even just dominate the game so that the other club has no shot.
Most importantly, their heart carried the club to spectacular results, sometimes league titles, deep runs into the Champions League, or even completing the double or a historic treble.
It's simple, it either begins with a manager or a captain
These types of managers know how to get the most out of their players. They celebrate the goals as if they were the ones that scored them. They rejuvenate supporters in dire moments of the game to help out the players.
They even are the first line of defense when a player makes a mistake. Players want to play for them and will do everything asked by their manager because they know he has their back.
The footballing community adores managers who are the heart of the club, like Jurgen Klopp, Diego Simeone, Antonio Conte, and Jose Mourinho.
Arsenal, in desperate need of heart, cannot get Arsene Wenger to be a hype machine—it is just not his style. He is more of a philosopher than a crazy football technician cheerleader—either one not being better than the other, just different.
So if Arsene Wenger is going to philosophize on the touchline, then it is the player's responsibility to carry the burden of pushing the team. This usually falls on the heartbeat of the team.
Take a moment to think about the heart and soul of a club
There is Gianluigi Buffon at Juventus, Cristiano Ronaldo at Real Madrid, and Thiago Silva at PSG.
Even going back a couple of years, John Terry was at Chelsea, Steven Gerrard at Liverpool, Philipp Lahm at Bayern Munich, and Javier Zanetti at Inter Milan.
The list could go on forever. No matter if it is the captains of yesteryear, today, or tomorrow, they all did the job phenomenally at leading the team.
The captain led the club to victories, comeback wins, and historic seasons. They were the glue that held to team together in highs and lows. The burdened everything.
Arsenal doesn't possess that sort of character
Arsenal once had it: Patrick Vieira and Tony Adams. They did everything.
They were the heartbeat of Arsenal under current manager Arsene Wenger, and the results were more than successful. They were historic.
Currently, it would seem to be Alexis Sanchez's calling, but he does not exemplify true leadership.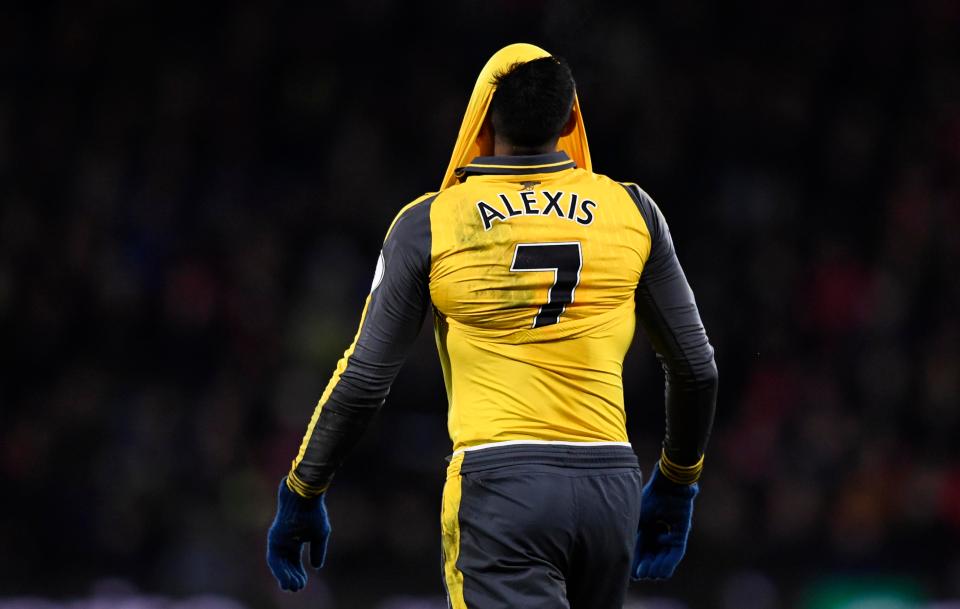 Although he was the only one that fought to the dying minutes of the season hoping to get Arsenal to finish fourth, he was captured laughing at the score line of Arsenal-Bayern Munich in the Champions League.
The squad also does not react to him like a captain. If Sanchez cannot lead, certainly no one else in his current form can do so either.
A captain, the heartbeat of a club, is vital to success. Whether it is a manager or player, the best clubs have it. Arsenal simply doesn't.
If the team in red from North London wants to return to the biggest stage in club football, who will step up to be the heartbeat and lead the team? Someone will have to change for the better of the club.
Written by Steven Jotterand
Follow Steven on Twitter @StevenJotterand
Like O-Posts on Facebook
You can also follow O-Posts on Twitter @OPosts