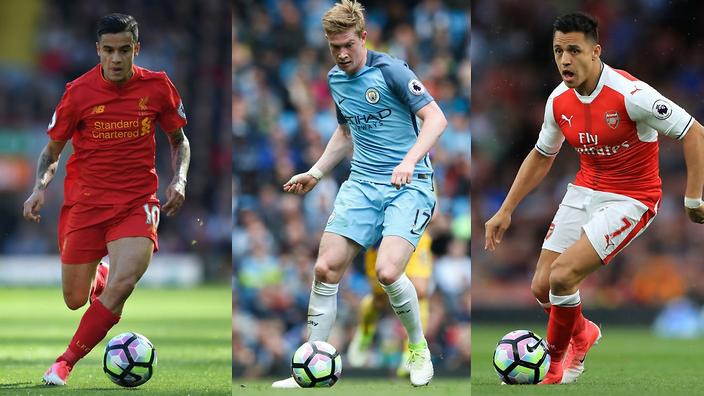 As the season is coming to an end on this Sunday, three teams are still chasing the two top-four spots; Manchester City, Liverpool, and Arsenal – three giants who all set the Champions League qualification as minimum expectations at the start of the season.
The stake is enormous – the global prestige and extra spending power. Only two of them will play at the highest level next year, and it is going to be a fascinating battle in the last round of this year's Premier League.
City is only one point away
The Citizens are in the best starting position; they need a draw in their last game at Watford to secure a top-four spot. But Guardiola's side will definitely look for a win to finish in the third place and avoid qualifications for the Champions League next season.  
After a strong display in last game against WBA, their confidence is sky high. If the main players like De Bruyne, Aguero, Silva, and Gabriel Jesus repeat their performance from last match, there will be no problems for City to earn that one point they need.
In the first meeting of these two clubs, City won easily 2-0. The last match at Vicarage Road, in previous season, City past the hosts 2-1 with overturn in last ten minutes of the game. Watford have five straight losses and they would certainly like to avoid a defeat in this one, but beating the Man City on Sunday sounds like a miracle.
Liverpool has the fate in their own hands
The Reds will play at home and they have the weakest opponent on a paper – Middlesbrough, who is already relegated to the Championship. The hosts need a win to secure the fourth spot and the Champions League qualifications next year, at least.
If they miss out on this chance they'll need a help from their arch rivals (if Everton don't lose to Arsenal, the Reds will finish in top-four anyway). On their opening meeting this season at Riverside, Liverpool crashed Boro by three goals margin and we expect more of the same in this game.
Liverpool's players need cool heads on Sunday with the fate in their own hands. They must be patient if they fail to get an early goal, but knowing the Klopp's tactical approach, the Merseysiders will attack from the referee's first whistle.
Many times in the past Liverpool disappointed in crucial games (just remember that famous Gerrard's slip a few years ago) but this time we think they will be up to the task. Middlesbrough is in an awful form and they'll need a lot of luck to escape undefeated; however, they didn't deserve that sort of fortune.
Arsenal have the toughest opponent and the most difficult mission
Arsenal is in the most difficult position because they are one point behind Liverpool and three points behind Man City. The Gunners have to confront Everton, who is a far better team than Watford or Middlesbrough.
If Arsenal want to play the Champions League next season, first they have to beat Everton on Emirates. Also, Liverpool mustn't record a victory or City will have to lose by five goals difference, which is highly unlikely.
Wenger's proud record of never finishing outside of the top-four is under a threat, but his players will try to do their job – win a game, and then wait for wonder to happen.
If they stay in the fifth place after a final round, well, that is going to be a proper position for their performance this year.
Miracle happens but this time maybe it's too much
It's going to be an interesting final round of the season, that's for sure, but we are expecting to see clear victories from Man City and Liverpool. If they play like they know, Arsenal's chances to sneak into the Champions League positions are quite miserable.
Maybe time has come for Wenger to finish below the fourth place, but English football is pretty unpredictable sometimes, especially in important games.
Written by Oliver Zivic
Follow Oliver on Twitter @guli86
Like O-Posts on Facebook
You can also follow O-Posts on Twitter @OPosts