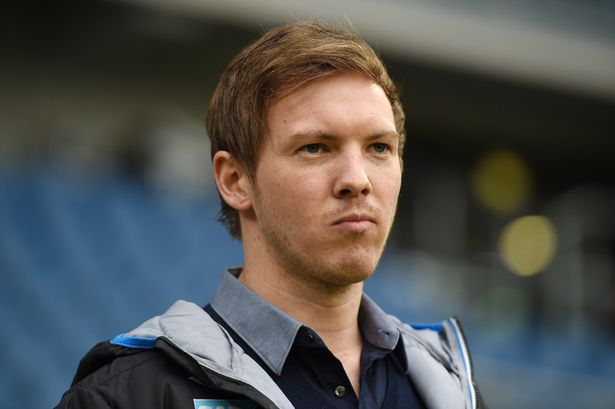 Surely it's the end of Wenger's reign at Arsenal.
The fans have certainly made their voices heard over rumors that he could sign a new contract.
But if Arsenal do not achieve top four this season, which looks very likely, the club have to go in a different direction.
Names like Diego Simeone and Massimiliano Allegri have been linked with the club, but in my opinion, Julian Nagelsmann is a must get for Arsenal.
Who is Nagelsmann?
Nagelsmann is a 28 year old German coach who currently manages Hoffenheim in the Bundesliga. He had never played a professional game of football as a player due to constant knee injuries and retired at under 19 level.
He studied sports science in university before he moved into coaching for Augsburg briefly working under current Borussia Dortmund head coach Thomas Tuchel.
When Nagelsmann, who was only 28 at the time, took over Hoffenheim in February 2016, Hoffenheim were in a relegation battle sitting 17th, 7 points from safety.
The youngest manager in Bundesliga history took a struggling team and won half of the remaining 14 matches and finished 15th at the end of the 2015-16 season.
This run of form wasn't a fluke.
Tremendous progress for Hoffenheim
The form of Hoffenheim has continued into this season, they were the longest unbeaten side (17 matches) in Europe's top 5 league before losing their first game of the season to RB Leipzig on the 28th January.
They currently sit 4th in the table with Champions League secured for next season. Arsenal are in poor condition currently, not to the extent Hoffenheim were, but still not in the state they should be.
Arsenal want a long term project and are obviously a loyal club as Wenger has been at the club for around 21 years, so it would make sense for a young manager to come in and make the club their own.
Who better than Nagelsmann? 29 years old and has won Bundesliga Coach of the Year.
He plays a very exciting, energetic style of football, with all the players wanting to fight for him, which is exactly what the Arsenal fans have been screaming for.
He once said "30% of coaching is tactics, 70% social competence", social competence is something the Arsenal players seem like their lacking and he could be the man to bring communication and passion back to the club as he is known for his man-management and forging of bonds between players.
Why would he leave?
With how well Hoffenheim are doing you may be asking yourself 'why would Nagelsmann want to leave if they're playing so well?'
Well, two of their finest players in Sebastian Rudy and Niklas Sule are both leaving at the end of the season to sign for Bayern Munich, and Sandro Wagner is rumored to be interested in joining Bayern also.
It is going to be difficult for Hoffenheim to find replacements for these players who are also affordable. It's going to be hard to want to stay at a club who is going to lose their top talents.
Tactics
Nagelsmann is a very tactical manager who has set his team up to play a flexible style of football in a 5-1-2-2 formation. This formation can be turned into a defensive 5-3-2 or an attacking 3-1-6 at ease.
He likes to close space down quickly, similar to the style Liverpool play under Klopp. He also likes his team to play like Guariola's positional play, giving the man on the ball as many options as possible with the fluidity in his formation.
The attacking players in this formation are two central midfielders and two central strikers. Kerem Demirbay and Nadiem Amiri play as the two midfielders but they are given the freedom to float out wide, especially Demirbay.
Sandro Wagner lays it off to the two midfielders from his central striker position whilst Andrej Kramaric can either lay it off or get in behind the oppositions defense.
The wing backs offer the width while Sebastian Rudy plays as the pivot of the team.
Kevin Vogt plays in the center of the back three, but as he used to be a defensive midfielder, he can push up next to Rudy to make a 4-2-2-2 formation.
The other two center backs Sule and Benjamin Hubner are both tall, comfortable on the ball and good passers, allowing them to launch attacks by picking out Wagner from defense, a job Giroud could do with ease.
Arsenal have a very talented squad, and even though players like Alexis Sanchez and Mesut Ozil are likely to leave the club due to the unlikeliness of achieving Champions League next season, they have the funds to replace them.
Arsenal under Nagelsmann could line up like:
Cech
Bellerin – Koscielny – Mustafi – Gabriel – Monreal
Xhaxa
Chamberlin – Ozil
Giroud – Sanchez
Obviously they would have to target a new center back, left back, striker and replacements for Ozil and Sanchez, but overall that team could work very well if managed correctly, and Nagelsmann is the man to bring a falling team back together.
Written by Andy Doorbar
Follow Andy on Twitter @WatfordAndy
Like O-Posts on Facebook
You can also follow O-Posts on Twitter @OPosts