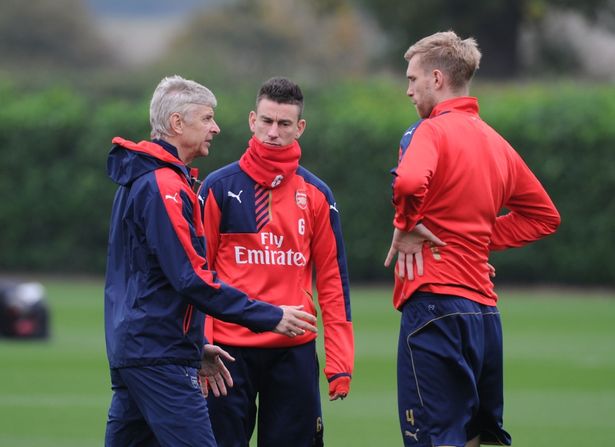 As Arsenal fans cry out for new signings at both ends of the field, I posit that a tactical change from Wenger could be just as important as bolstering the squad with additional players.
The current situation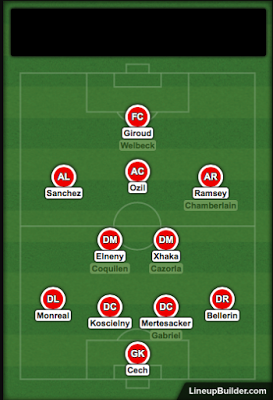 At present, Wenger sets his Arsenal side up with a fairly standard 4-2-3-1.
The full backs are encouraged to join the attacks, forcing the wingers to increase their defensive duties.
This is why Ramsey has been pushed out to the right, and one of many reasons why Walcott has been keeping the bench warm.
Playing Olivier Giroud as a solo striker often slows the attacking play, especially when the Frenchman is tightly marked.
Furthermore, it leaves the Gunners with no counter-attacking threat, due to Giroud's lack of pace.
Too much emphasis placed on the holding midfielders
Much of the play is dictated by the two 'holding midfielders'.
Typically, Wenger opts for one Deep lying Playmaker and one Midfield Enforcer, meaning only three outfield players are defence-orientated.
This leaves Arsenal very susceptible to counter attacks, particularly from fast strikers, which is only worsened when playing Per Mertesacker.
A perfect example of this was seen against Chelsea at the Emirates last season, where the German was exposed and brought down Diego Costa as the Blues were breaking- he received a straight red card and Arsenal lost the match.
Given their possession-based style of play, Arsenal are relatively easy to play against.
Simply pack your defensive third of the field, and aim to hurt the Gunners on the break, utilizing their defensive fragility.
Recent seasons have been littered with results where, despite dominating possession, Arsenal have come away with nothing to show for it.
How could a defensive-three work?
Assuming there are no more signings in this transfer window, which is looking more and more likely, Arsenal could potentially utilize a three-at-the-back formation in a couple of ways.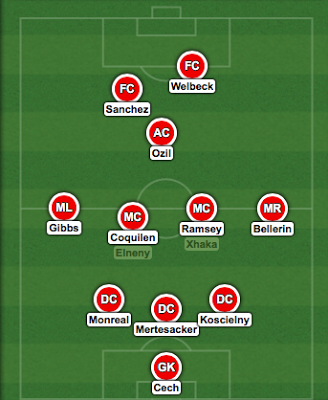 The first option would be to go for a variant of the 3-4-1-2. For me, this option gives this current Arsenal side the best combination of attack and defence.
By placing Mertesacker in-between Koscielny and Montreal, you accommodate his lack of pace whilst enhancing his strengths; mainly his aerial ability.
Gibbs and Bellerin would perform essentially the same role as they would in the 4-2-3-1, expected to contribute to both attack and defence.
However, under this system, there is much less concern should they be unable to make it back, as there are three centre-backs there to cover for them.
In the centre of midfield, the roles are again similar to the 4-2-3-1.
One of the deeper two would sit and act as a screen in front of the back three, whilst the other would be expected to start moves from the centre, and potentially get more involved in attacking moves.
The forwards, the biggest benefactors of this change
The front three is where this formation is at its strongest.
By placing Mesut Ozil behind a dynamic and pacey attacking combination of Welbeck and Sanchez, you can really take advantage of his almost unparalleled vision and passing ability.
Sanchez too is given much more freedom, with the ability to drop alongside Ozil to pick up the ball, and then drive up beyond Welbeck.
The main striker is much less isolated, with two players near him to link up play to.
Another variation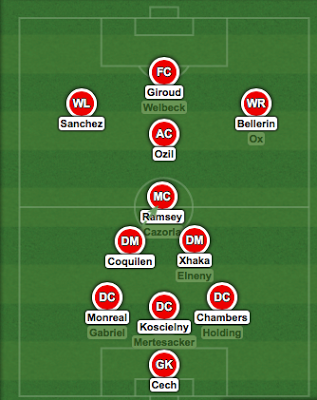 This second use of a three at the back formation is one of my own creation. This is a variation of the defensive three that aids and allows for ball playing.
The first major difference you will notice is the absence of Mertesacker.
With the lack of wide defensive support, the outer of the three centre backs push wide to cover those areas, with the two deep midfielders covering them centrally.
This means, ideally, you need a defender with a bit of pace, hence the German's exclusion.
In addition, placing Chambers or Holding on the right of the three gives you the tactical flexibility to change formation if necessary, as both can play at right back as well.
How the holding midfielders can ease the team's flow of play
The two deeper midfielders are key.
Tasked with bringing the ball from the back line, they dictate the direction and pace of the attacks, whilst being required to limit their forward movement as they are needed for defensive cover.
Ramsey in the centre is given the freedom he always craves, whilst still allowing for Ozil to play in the number 10 role and act as the creative focal point for the side.
The two wide men are less restricted by defensive duties, they can either hug the touch line and cross to the solo striker or cut inside and make an attempt themselves.
With effectively four players around him, assuming the central midfielder pushes forwards, Giroud is significantly less isolated and given a greater variety of service.
Crucially there is a greater chance of crosses, which would take advantage of his often overlooked prowess in the air.
Wenger's notorious stubbornness makes any change unlikely
Other than occasional experiments with a 4-5-1, Arsene Wenger has rigidly stuck to the same formation, and same style of play for several seasons.
As a result, this Arsenal side has become stale, their attacking movements are predictable, and they are easy to set up against.
Too often they are reliant on moments of individual brilliance from the likes of Sanchez and Ozil.
No more so has this been evident than at the start of this current season; with Ozil out and Sanchez playing out of position, the Gunners are faltering in attack.
Switching to a three at the back formation would give Arsenal the edge they have been lacking for some time, adding an element of unpredictability to their play style, and allowing them to hurt teams on the counter-attack.
Yet, as has become painfully apparent in recent years, Wenger is a man who firmly sticks to his ideas, meaning it is unlikely we will see a tactical switch any time soon.
Written by Adam Pritchard
Follow Adam on Twitter @DukeArsenal
Check out his fantastic football blog, Starting At Ten
Like O-Posts on Facebook
You can also follow O-Posts on Twitter @OPosts