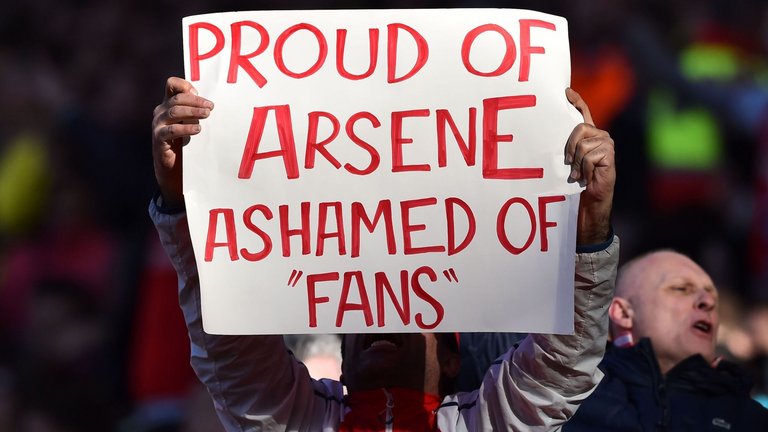 The #wengerout hashtag is illuminating to say the least.
In the aftermath of Arsene Wenger signing a 2-year contract extension to remain at Arsenal through to 2019, it has exploded once again with a number of fans expressing their anger at the direction their club is going.
The tweets range from detailed analysis of Wenger and his 'failings' to quite vicious abuse with a variety of colourful language employed.
The campaign has taken to the stands of the Emirate Stadium in recent months, with a popular chant expressing the opinion that Arsene Wenger is 'Killing our club'.
Quite a statement to make.
Why Wenger is not killing Arsenal
Wenger's new contract comes on the back of Saturday's 2-1 defeat of Chelsea in the FA Cup, a record-breaking 7th FA Cup triumph for the Frenchman. Wenger is the most successful manager in the club's history, winning 3 Premier League's, including the famous 'Invincibles' season in 2004.
Before this season's admittedly embarrassing 5th place finish Arsenal had qualified for the Champions League 20 times in a row. In that time the Gunners have moved from Highbury to the modern Emirates and generally recorded a profit season after season, not to mention reaching the Champions League final in 2006.
This is especially impressive when you consider the influx of foreign money that has entered the Premier League, forcing Arsenal to battle Liverpool, Chelsea, Tottenham, Manchester United and City, not to mention the likes of Leicester and Everton, for the top four spots.  
Of course, no title-chasing team should ever be satisfied with repeated 4th place finishes and the occasional FA Cup, the 9-year gap without a trophy between 2005 and 2014 particularly galling for many fans.
However, does that sound like a club in danger of 'dying'?
There are teams who would love to be in Arsenal's shoes
There are some fans who would disagree very strongly.
Blackburn Rovers were relegated to League One a few weeks ago, completing a downward trajectory that began in the aftermath of their takeover by the Rao family and was compounded by quite possibly the worst ever decision in footballing history, the sacking of Sam Allardyce.
Seven managers have followed Allardyce, who was a frequent thorn in Wenger's side during his stint as Bolton boss, and the reign of Venky's ltd has been characterised by questionable hiring both on and off the pitch, influencing of key decisions by super agents, and most recently the use of payday loans to help the day to day running of this once proud club.
Like Arsenal, Blackpool also visited Wembley recently, winning their League Two play-off against Exeter City. Unlike Arsenal Blackpool did not have a full contingent of fans supporting them, as many boycotted the event in protest against the running of their local club by the Oyston Family.
Relations between the fans and owners have reached an all-time low after Karl Oyston was fined by the FA for calling a Blackpool fan a 'retard' over text. Other transgressions include removing a statue of legend Stan Mortensen and losing a multi-million-pound court battle with the president of the club.
Coventry City have swapped places with Blackpool, dropping down to League Two after a season with four different managers in charge (including Blackburn's current boss Tony Mowbray).
Coventry also won a cup at Wembley this season, but decided not to use the EFL  trophy final to protest against their current owners Sisu, instead hoping to use the final to attract potential suitors.
The Sky Blues were ill-fatedly moved to Northampton's Sixfields stadium for the 2013/14 season, after a series of fights with Coventry council. Sisu have also failed to guarantee a permanent position for the club's academy and considered selling the team's training ground.
Coventry were relegated after drawing with Charlton FC, a match that was delayed twice after Charlton fans threw plastic pigs to protest their own ownership problems. Both sets of fans also demonstrated together outside the Ricoh arena, the second time the two groups had done so this season.
Charlton fans recently decided not to visit Sixfields stadium for their visit to Northampton, instead visiting their Belgian owner Roland Duchâtelet in his home town of Sint-Truiden to protest 8 managerial changes, constant selling of talented players and a seeming lack of interest in the club by Duchâtelet. There may be hope on the horizon with an Australian consortium eager to buy the club.
Nottingham Forest supporters are celebrating after Olympiacos president Evangelos Marinakis bought out current owner Fawaz Al Hasawi, whose reign was characterised by mismanagement and managerial instability.
Unusually Al Hasawi apologised for his failure to bring Forest to the heights he had imagined, and considering their new owner has been fighting match-fixing scandals is it a case of out of the fire into the frying pan?
Disconnection is now commonplace in football
Leeds United. Leyton Orient. Portsmouth; the list goes on and on. Mismanagement of English football clubs by owners who are either naïve or simply incompetent.
Fans are more and more disconnected from the day to day running of the clubs they love, who let's not forget are often the lifeblood of the economies of small towns and villages.
The anger is not just reserved for the owners either.
More and more supporters are expressing their disdain for both the FA and the Football League; their fit and proper ownership test seems more and more unfit for purpose, and little action is forthcoming except to penalise teams further with financial fair play rules and banning derogatory flags from high-profile matches.
Arsenal's problems pale in comparison to that of lower league clubs
So while acres of back-page columns are concentrated on Arsenal's 'decline' and Arsene Wenger's 'mismanagement' it's unlikely many lower league fans will pay much attention.
We have our own problems, and would overwhelmingly swap them for finishing outside the top 4 and a FA Cup win.  
Written by Matthew Robson
Follow Matthew on Twitter @TheRobsonator93
Like O-Posts on Facebook
You can also follow O-Posts on Twitter @OPosts