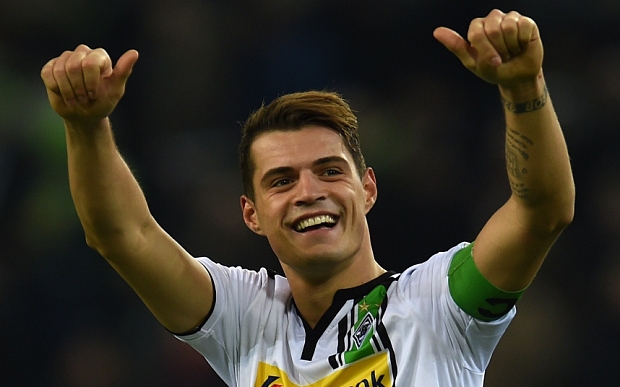 Even if Jamie Vardy's move to Arsenal somehow does not materialize, Arsene Wenger is certain to sign a striker, with the likes of Arkadiusz Milik still available. However, having brought down Granit Xhaka for a reported fee of about £35 million, Wenger's midfield purchase is over, unless he intends to bring in teenage midfielders from Ligue 1.
With Xhaka's arrival, Arsenal now boast the luxury of being able to tweak their system based on the might of their opponents, as his arsenal features an array of attributes.
Wenger hardly breaks the bank for players who would not walk into his team, and accordingly, Arsenal's second most expensive signing should likely be a major part of Wenger's Plan A.
Provided the Gunners retain their 4-2-3-1 formation, Wenger has five double pivot combinations with the Swiss international.
Xhaka-Ramsey
Although neither Aaron Ramsey nor Xhaka is a natural defensive midfielder, the defensive responsibilities could be shared as both are equally and sufficiently equipped on that front.
The fact that Xhaka is positionally astute and prefers to sit back complements Ramsey's eagerness to run up and down the pitch, mostly in search of scoring opportunities.
As Santi Cazorla is undroppable, no matter how exciting a double pivot of Ramsey and Xhaka is, Wenger may not deploy this combination next season; however, along the line, the Ramsey-Xhaka partnership could proceed to achieve legendary status at Ashburton Grove as the average age of two is only 24.
As far as 2016/17 is concerned, the Welshman will likely feature more on the right wing than in the middle of the park.
Xhaka-Cazorla
With Cazorla turning 32 next season, by the looks of things, Xhaka was brought in as his long-term replacement as either player have more or less the same playing style, with both excelling at linking the defence with attack.
What Cazorla lacks in physique, he makes up for in creativity, and exactly the opposite can be said of Xhaka.
However, this set-up is unlikely as it could turn out to be a defensive disaster.
Xhaka-Coquelin
Wenger lately shows no resistance to opting for a more defensive Plan B against mighty clubs such like Bayern Munich. Against such teams, starting Francis Coquelin alongside Xhaka could ensure defensive stability.
As Xhaka also possesses excellent long passing range, with a runner like Vardy spearheading the lineup, the London club would not essentially compromise on the attack.
A midfield duo of Coquelin and Xhaka offers an entirely different dimension to how they can approach the game.
Xhaka-Elneny
A midfield combination of Mohamed Elneny and Xhaka is the unlikeliest, as it would have neither the wizardry nor the defensive edge that the other combinations do.
However, one can expect to see these two in action if and only if Arsenal somehow — or as always — lose half of their roster to injuries halfway into the season.
Xhaka-Wilshere
A double pivot of Jack Wilshere and Xhaka could cause problems to the opposition's defence, as the team would also have Mesut Ozil, Alexis Sanchez, and Ramsey playing further up the pitch.
However, it could render them vulnerable defensively as Wilshere's defensive capability is questionable despite his incredible positional awareness that enables him to intercept the build-up.
Accordingly, against defensive sides and bottom-half clubs, this set-up could run riots.
However, although Wilshere insists on being played in the centre, Wenger is not keen to move him to the centre.
Should Wilshere impress in the European Championship as a deep-lying playmaker for England, he could convince the Frenchman to deploy him in the centre more.
Written by Praveen Paramasivam
Follow Praveen on Twitter @49Praveen
Like O-Posts on Facebook
You can also follow O-Posts on Twitter @OPosts