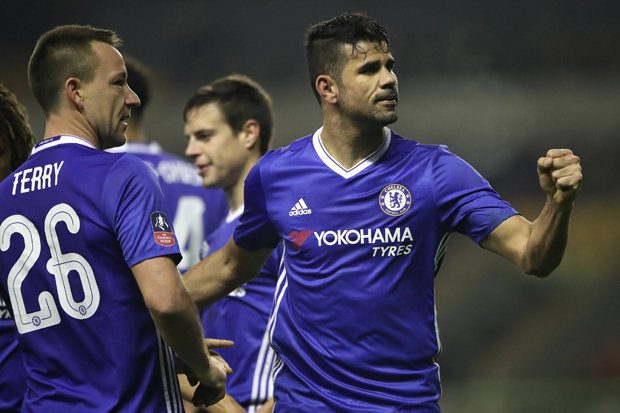 Second half goals by Pedro and Diego Costa inspired Chelsea to a 2-0 victory over Wolverhampton Wanderers in the fifth round of the FA Cup.
Playing away at the Molineux Stadium, the Blues registered a slow start, with Asmir Begovic being called to task for much of the first half.
Cautious however not to follow in the footsteps of Premier League sides Burnley and Leicester, who had earlier lost to Lincoln and Millwall respectively, Antonio Conte increased the tempo after the interval, which in turn paid massive dividends.
Following their disposal of Wolves nonetheless, Chelsea now face the monumental task of overcoming a resurgent Manchester United in the sixth round of the FA Cup: the only thing standing between them and Wembley.
Have the squad
Chelsea have, by and large, wielded the axe of control in the chase for the Premier League title.
Soft-spoken at press conferences and a maniac on the touchlines, Antonio Conte's tactics have seemingly come into fruition despite the hot-and-cold nature of the Italian.
The former Juventus boss has a plethora of talent at his disposal, with a squad strong enough to accommodate tweaks yet still mimic performances of the starting xi.
Alternating between John Terry/Kurt Zouma with Gary Cahill/David Luiz will be of the essence as they seek to secure the domestic double.
Fewer games
Other than the fact [that] Jamie Vardy and Riyad Mahrez were less charitable with their chances last season- compared to the current sorry state of affairs-, Leicester City stood head and shoulder above the rest last season because of a benign run of games compared to their title challengers.
In fact, the Foxes averaged a game every seven days, a cardinal reason why they, against all odds, managed to remain grounded to the point of clinching the Premier League title.
Chelsea are on the verge of achieving the same fate, although the FA Cup may not dent their Premier League title hopes going by the eight point lead and utter dominance in the competition.
High on confidence
The Blues may- like every other team- had a ramble, a stumble and a fumble along the way, but Antonio Conte's side without question are high on confidence.
Coupled with fewer run of games and a highly competitive squad, Chelsea may by right, be on the precipice of conquering the domestic league.
Written by Brian Humphrey
Follow Brian on Twitter @brihum
Like O-Posts on Facebook
You can also follow O-Posts on Twitter @OPosts