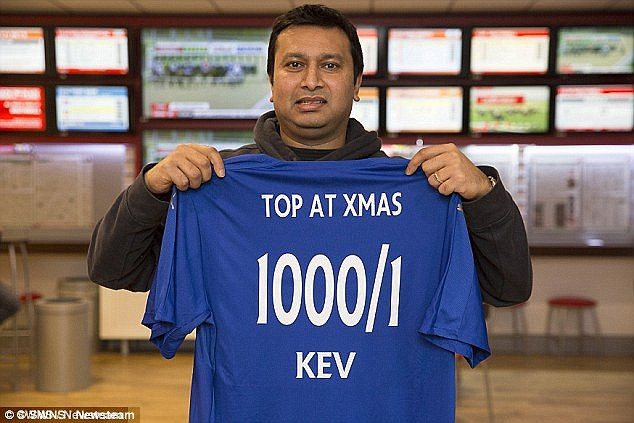 When betting on the English Premier League season, it can be tempting to stick to bookmakers' favourites. It is worth bearing in mind, however, that the underdog's bite is often worse than its bark.
Premiership outside bets, also known as longshot bets, certainly can win, and when they do, they often pay out handsomely.
Just ask the handful of punters who bet on Leicester City to claim the title in the 2015/16 season.
What Are Outside Bets?
Outside bets are bets with steep odds, which means they are risky, but offer high payouts if they win.
You could think of it as betting on the underdog of all underdogs.
In the Foxes' case last year, bookmakers were generally in agreement that they were a steep outside bet.
It doesn't always happen like that, so a longshot at one bookmaker may be a favourite at another.
When placing outside bets on the Premiership season, think twice about betting the same amount you would have bet on the favourite.
Don't forget that outside bets are risky, and a smaller bet could still make you a bigger profit than a bigger bet on the favourite team could.
The Foxes Come In From the Cold
Until 2016, Leicester City's league history was largely uneventful.
The club had been going for 132 years, and hadn't seen a Premiership win in any of them – and, compared to the likes of Manchester City and United, Chelsea, and Tottenham Hotspur, its players could be described as a rather motley crew.
We don't think many punters were too surprised when some bookmakers offered odds of 5000 to 1 against the Foxes.
If anything, it confirmed that the team from the city of a king in a car park were the joke outside bet of the season, especially when you consider that some bookmakers offered the same odds against Elvis Presley popping up alive and well in 2016.
If any bookmakers and punters laughed when those odds were announced, they no doubt stopped laughing when Tottenham drew 2-2 with Chelsea.
Leicester City received the Premiership title on a platter, and bookmakers had to pay out a combined £25 million.
Those ridiculously steep odds led to the UK's biggest ever loss on one sport market.
Most of the few bets that had been placed on the Foxes to win weren't big, either.
One punter bet a meagre £2, and received £10,000. The largest outside bet on Leicester City to win was £20, which won £100,000.
We should point out that you are not likely to find similar odds being offered on the 2016/17 EPL underdog; not after what happened last year, anyway.
Chelsea Hold Their Own
The 2017/18 Premier League season certainly has its outside online betting options, but nothing quite like what we saw with the Foxes.
A number of bookmakers have Chelsea as a clear favourite, which is not hard to understand, given that they are 12 points ahead of Tottenham in second place.
However, bookmakers are giving Tottenham and Manchester City more of a chance than they are Liverpool and Arsenal.
Both of the latter make for outside bets slightly less daunting than last season's 5000 to 1 against Leicester City, who, we might add, seem only too happy to see another team claim the title this time around.
Written by Beth Casey
Like O-Posts on Facebook
You can also follow O-Posts on Twitter @OPosts