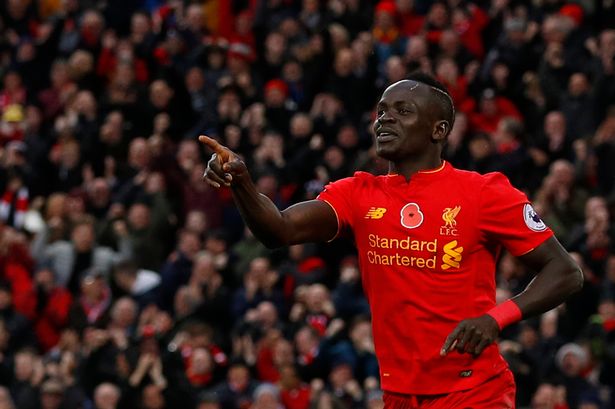 For the most part it has been an excellent week for Jurgen Klopp and Liverpool with the Reds recording victories over both rivals Everton and Bournemouth whilst their nearest rivals for a top-four finish, Manchester United, drew two successive home matches.
Yet there is one significant concern that will ruin the good vibe created by these results and could potentially derail the club's end to the season and this is the injury to Sadio Mane.
Huge blow
After suffering a knee injury in Saturday's Merseyside derby the Senegalese forward was expected to miss just under a month, but it was confirmed by Klopp on Friday morning that the injury requires surgery that hasn't been scheduled yet and the 24-year-old would 'clearly' miss the rest of the campaign.
This is a huge blow for Liverpool with the summer signing having in truth been the club's star performer this term.
It is notable just how much the Reds dropped off in the mid-season period when Mane was away at the African Cup of Nations.
He missed four matches during this period, of which Klopp's side won none. In comparison the 27 Premier League matches he has been involved in has seen Liverpool yield 17 victories.
Defensive woes
Liverpool's defensive struggles have been well documented this term with the goalkeeping situation not particularly helping matters and this is surely something that will be addressed in the summer transfer window.
With that said Liverpool's attacking football this season has kept them in the hunt for Champions League qualification.
Standout performer
Mane has been the standout performer ably supported by Coutinho, Roberto Firmino and Adam Lallana.
When Mane's absence struck there was a lack of form from Coutinho at the same time and when Liverpool were unable to score as many goals and dominate teams with their attacking style, they were shown up as a rather ordinary unit.
In the Premier League the former Southampton forward has netted 13 goals and contributed five assists which is a tremendous return for a player working through his debut season at a club.
Complements Klopp's style of football
What is more important however is how Mane's style has completely meshed with Jurgen Klopp's.
The German coach has utilised a high-intensity pressing game for a number of years and we have seen this at Anfield over the course of the last 18 months.
This style does require a number of players who are physically capable of pressing defences from the front in addition to being able to clinically punish teams at pace.
Mane is a perfect fit and when he is on form there are few teams who can handle Liverpool, it is no coincidence that the Reds looked a sure bet for a strong title challenge in the early part of the season.
Klopp's first season working at Anfield, whilst not a full campaign, highlighted the issues the German would face in turning the Merseyside club into serious title contenders.
Now as he is nearing the end of his first full season in charge it is clear to see the direction in which he is taking the club.
Over-reliant
Mane's arrival has been a key part of that development yet here is the issue for the remainder of the 2016/17 campaign.
Liverpool are over-reliant on him both in relation to his goals and assists but also his ability to defend from the front.
The Senegalese international's pressing work essentially protects Liverpool's brittle defence and prevents attacks from building up with any consistency.
For the final seven matches of the Premier League season Liverpool are in the driving seat to secure Champions League qualification, but with Manchester United having two games in hand on them a repeat of their winter collapse in Mane's absence could be disastrous.
Written by Chris Winterburn
Follow Chris on Twitter @Chriswin4
Like O-Posts on Facebook
You can also follow O-Posts on Twitter @OPosts