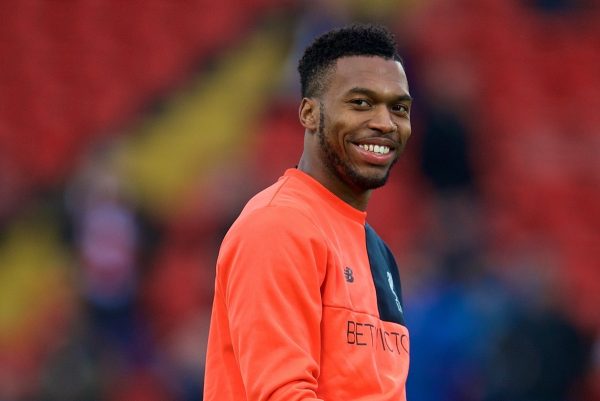 It will come as no surprise that this will be Daniel Sturridge's final campaign at Anfield with the English striker set to be sold in the summer transfer window.
The Manchester City academy graduate arrived from Chelsea in the winter of 2013 at the behest of Brendan Rodgers with the club at that time still looking to rebuild following years of disappointment.
Sturridge proved to be an astute signing as he immediately found his goalscoring touch and would go onto become the perfect foil for one Luis Suarez as the pair put together one of the most devastating attacking partnerships in recent memory.
In his first 14 Premier League appearances for the Reds he netted 10 goals and in his first full season on Merseyside he hit even headier heights as he scored 21 goals in the 2013/14 campaign.
Injuries take a toll
It was at that point injuries took hold of him and from a Liverpool perspective it was at the worst possible moment.
Suarez had just left for Barcelona and the burden to lead the line was placed on then-former Chelsea forward's shoulders with only Mario Balotelli as support.
The Italian never settled and Sturridge was never fit.
Liverpool were all of a sudden in dire straits after narrowly missing out on the Premier League title the previous year.
Champions League embarrassment at the hands of FC Basel followed whilst a 6-1 defeat to Stoke City on the final day of the 2014/15 season made Rodgers' position ultimately untenable, despite the fact he was given eight Premier League games the following campaign before he was dismissed.
Momentum stalls
For the 27-year-old, building momentum again has been essentially impossible as he has scored just 12 Premier League goals in the last three seasons.
Across this period he has managed just 39 Premier League appearances which is less than the 43 he put together in his first one and a half years at the club.
Patience within the club has worn thin, Jurgen Klopp doesn't trust the England international and Divock Origi has surpassed him in the pecking order at Anfield.
The only logical step is a move away and this could lead to another Premier League club getting the bargain of the summer.
Goal-scoring machine
You can say what you like about Daniel Sturridge, you can point towards his horrendous injury record or you can label him as selfish on the pitch with the forward often picking the wrong option, however his goal record when he is fit speaks for itself and this is what clubs take note of.
Goals keep teams in the Premier League, just look at how seriously West Ham pursued Jermain Defoe in the January transfer window.
It is only the sheer lack of quality around him this term that has prevented the former Spurs forward from keeping Sunderland in the Premier League single-handedly for a second successive season.
Sturridge will score goals and this will catch the eye of every single team in the bottom half of England's top flight, including the teams arriving in the league after promotion from the Championship.
West Ham United have lacked goals this season and once again have ended up relying on Andy Carroll, Watford lost Odion Ighalo in January and are in desperate need of an additional option to Troy Deeney whilst Bournemouth may well look to take their next step on the Premier League ladder by spending significantly more than normal on a player with proven top class pedigree.
This could see them improve on their goal tally of 49 which is actually the highest outside of the top seven.
Move would be beneficial for both parties
The Birmingham-born striker's contract expires in June 2019 so Liverpool can still command a fee close to his market value, however just how high this figure is at the current moment is a subject of much conjecture.
If he is fit then there is absolutely no question you have a 25 goal a season striker on your hands, but his five separate injury complaints since the start of this season alone limit his value tremendously.
Liverpool will not be looking for the rampant squad overhaul that seems to cover most back pages from May onwards, Klopp is looking to restructure his defence slightly and add another energetic, creative forward.
With this in mind the cash brought in from any potential Sturridge sale isn't make-or-break, in fact just taking his reported £120,000 per week salary off the books will be a huge help in itself.
Unless something dramatically changes it is difficult to see a club spending more than £15 million to take him from Anfield especially with the former Dortmund coach having done little to hide his inability to make use of the player in recent weeks.
This is an affordable fee for any club in the Premier League's lower echelon next year and if he can stay fit it will prove to be a bargain.
Who would take a chance on the injury-prone striker?
Now ability-wise there is no reason why Sturridge couldn't suit Arsenal's playing style but the simple fact is that big clubs aren't willing to take a risk on a player with such issues.
Transfers are so important to clubs looking to take the next step towards the title that you can't really afford to sign a dud.
For teams nearer the bottom there isn't as much of a risk, a number of teams in that area tend to stick with the majority of the squad they used the previous year, this is a far cry from just under a decade ago.
Sturridge will be on the market this summer and teams will look at him, whilst it is unlikely a bidding war may ensue, you can be sure one team in particularly may well get a priceless reward just by taking a risk on the centre-forward who simply just needs to stay fit.
Written by Chris Winterburn
Follow Chris on Twitter @Chriswin4
Like O-Posts on Facebook
You can also follow O-Posts on Twitter @OPosts