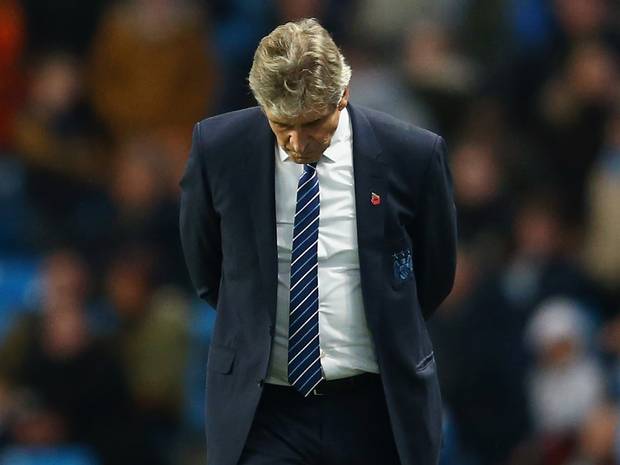 Before the signing of Raheem Sterling for the controversial sum of £49 million, there were murmurs of Manchester City simply not having the squad able to compete for the title this year.
After all, last season was a major disappointment with a title challenge only really lasting until February and thus by March, Chelsea had the title almost in the bag.
Yet improvements haven't been great enough yet to suggest the Sky Blues can give Chelsea or perhaps even Arsenal or Manchester United a run for their money, and here are five reasons why:
Motivation
The Manchester City squad looked unmotivated for much of last season, and that was the case in 2012-13 after they won the title the year before as well. There were many games in which one felt City simply could have done more to win the game, even away to Chelsea in January's 1-1 draw, there was a lack of movement and drive by the likes of even David Silva and Aguero, the latter of which can be deemed more acceptable due to the number of injuries he had.
Yaya Toure was perhaps the worst offender for a perceived lack of effort, to the extent he went from effectively key player in 2013-14 to liability with flashes of brilliance in 2014-15.
Even in defeats such as to Burnley and Liverpool, City created few chances to level the game up, meaning by the end of the season, it was only fair City finished eight points behind title winners Chelsea.
Age 
Make no mistake, Manchester City lacked enthusiasm and legs last season, and this is only solved in one area with the signing of Sterling. Rather around the pitch they lack youthfulness, at right-back they have Sagna and Zabaleta at ages 32 and 30 respectively; their best centre-back performer was Martin Demechelis aged 34. Yaya Toure was central to their title win in 2013-14 and is 32 and injury prone.
When at the African Cup of Nations, City failed to win a single game without him. Although Sterling injects great pace and trickery sure to give many defences difficult days, whether City can win the midfield battles around him and feed to him remains a doubt.
Consistency 
Last season, Manchester City only really had one month when they were at their best and that was early December until early January, a month which saw them even go level on points with Chelsea at one point.
However, their fragility was exposed at this point, they lost to Middlesbrough, drew at home to Burnley and looked generally poor and uncertain particularly in defence. James Milner was consistently good albeit not spectacular, and the decision to let him go was not perhaps the best.
In their second seasons, the likes of Fernando and Eliaqium Mangala may well improve and find consistency, but whether star players such as Vincent Kompany and David Silva improve on last season remains to be seen.
Significant improvements in focus and quality will be needed for Manchester City to really challenge for the title this season.
Lack of depth 
Much was made in 2013-14 of the impressive depth Manchester City had from defence to attack, but the inconsistent performances of Džeko, Jovetic, Sagna, Nasri and others have left City worryingly reliant on the likes of Aguero, Kompany and David Silva, the latter two underperforming last season while Aguero had fitness issues after a full World Cup.
As a result, Manchester City could not maintain their challenge last season, and unless they sign another striker, this City squad doesn't seem to be much of an improvement on last year's.
Quality
The reliance on Kompany, David Silva and Yaya Toure would be more acceptable were it not for the weaknesses of these three and them being somewhat found out over recent seasons. Silva has been great at times but doesn't score enough, Toure is magnificent going forward but is easy to overrun in midfield, while Vincent Kompany has lacked the assurance and organisation he used to play with.
These defects have not been covered up as other players have not stepped up to the plate, Nasri hasn't for Silva, Mangala and Demechelis haven't for Kompany and Fernando, and Fernandinho hasn't for Toure.
Sterling may well be able to for Silva and does have the potential to be Manchester City's first world class addition since Aguero in 2011, but whether this can compensate for a shaky midfield and defence looks unlikely from afar.
Conclusion 
Manchester City looked lethargic last year, yet a wholesale clear-out never came to fruition. They do not seem to be the same team as the one who would aggressively dominate teams as they did for much of 2011-14, and that can only come back with a mentality change.
Sterling could well inspire that, as he can cut inside and create problems all around the final third, but he is only 20 and cannot be expected to be wholly consistent nor carry Manchester City alongside Aguero.
For the Sky Blues to really challenge, they need improved performances across the squad from Kompany to Džeko, and that looks unlikely given many such players' ages and lack of consistency lately, especially last season for both club and country in many cases including Kompany's.
For the sake of the title race, let's hope they can find the form many of them showed in both 2011-12 and 2013-14.
Written by Joshua Sodergren
Follow Joshua on Twitter @JoshSalad365
Like O-Posts on Facebook
You can also follow O-Posts on Twitter @OPosts