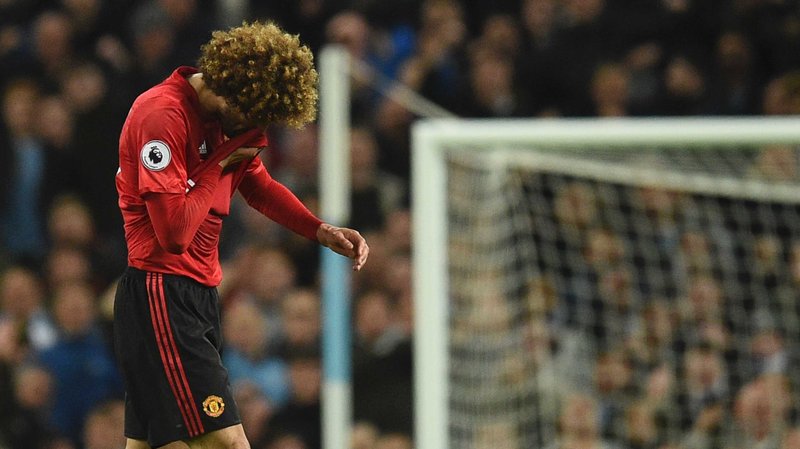 In a bizarre twist, Marouane Fellaini was shown a red card in the Manchester derby.
It may have been one of the most preposterous red cards I have ever seen. Repeatedly, Fellaini continues to let United fans down.
His troubles began in the 83rd minute when he was doing as instructed by Mourinho to hamper Manchester City's passing game.
Unfortunately, Agüero got the best of him and was rewarded a foul after Fellaini tried to slow down the Argentine.
Fellaini pleaded his innocent aggressively to the ref. This could also be revised for further punishment.
Where was the captain of the team to calm him down? His anger continued to flare as he again challenged Agüero who was left off his feet.
Stupid
In what can only be described as utter stupidity, Fellaini fell for Agüero's antics.
Agüero got in his face and wound Fellaini up. I stand by the red card shown to Fellaini, but I also see fit a booking for Agüero as well.
He delivered the initial headbutt. I must admit it was cleverly deviant by the lethal assassin.
He used Fellaini's Eiffel Tower-like structure against him as he had led downwards towards Agüero to meet his attack.
I mean it was clear as day what the Argentine was plotting, and what I don't understand is the ref was directly witnessed the incident and should have noticed the trick played by Agüero.
Praying for Mourinho's pity
Fellaini can only hope Mourinho will take a bit of pity on him, seeing the results were played in his favor.
When shown on camera, Mourinho's gesture to his beloved son as if to ask what happened.
Fellaini's response was an angry shake of the head, with his arms out in the I don't know expression.
Hope that the punishment isn't too severe
It may not end there for the Belgian international, as he took some time to to exit the pitch. This action is also known to be frowned upon by the FA.
United fans can only hope Fellaini is not banned for too long with their side's injuries on the rise.
Written by Rogel Maxie
Follow Rogel on Twitter @djfresh876
Like O-Posts on Facebook
You can also follow O-Posts on Twitter @OPosts