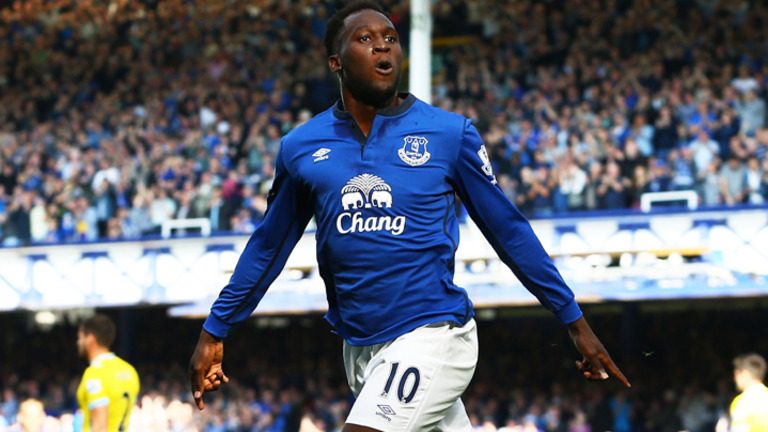 It is fair to say that the Premier League is blessed with its fair share of strikers.
Sergio Aguero has proven to be as dynamic as anyone in the history of the competition, Harry Kane is the national team's number one forward and Zlatan Ibrahimovic is more than defying the odds at the age of 35.
Throw in the prolific form of Diego Costa, whose efforts leave Chelsea nearing another league title and the ever reliable Jermain Defoe, and it is easy to see why this year's Golden Boot will be one heck of a contest.
Landmark moment
Meanwhile, over at Goodison Park, there is a man proving just as deadly in front of goal.
Romelu Lukaku's strike on Saturday, Everton's second in a 2-0 win over a struggling Sunderland, not only put him joint-top goalscorer in the Premier League this season (17), but also drew him level with Everton cult-hero Duncan Ferguson as Everton's joint highest scorer ever in the division.
It was a real landmark moment, though a deeper look at the stats show why Lukaku should be considered up there with the best strikers in the country.
Ferguson's achievements were and still remain enormously popular with the Everton faithful.
Ten years of service over two spells, along with his bulldog-like approach and immense presence in the air were key components in him reaching such a total.
Ferguson, now a member of the Everton coaching staff was even on hand to celebrate with Lukaku and he, of all people, will have been full of admiration as to how long it took the Belgian to reach his heights.
Lukaku reached his 60-goal tally in just 129 league appearances – nearly a goal every two games.
And when his record is compared with how long it took Ferguson to score as many – 239 games – then it seems like Everton have a new fans' favourite, and a seriously prolific one at that.
A long way to go
His manager, Ronald Koeman, believes there is plenty more to come from the big Belgian.
'For Romelu, there is a long way to go in the battle to be the Premier League's top scorer,' said the Dutchman. 'One of his big qualities is scoring goals. He is strong and fast and one of the best in finishing. He can improve by his runs to give options to the midfielders so we can push up and don't have to play the ball back to the goalkeeper. You saw what Tom Davies did for the first goal, his run inside gave Seamus Coleman the space to make his run and cross for the first goal.'
Koeman's words ring true.
Certain aspects of Lukaku's game can be enhanced, such as his hold up play and movement in behind in order to unlock defences even more than he already does.
And considering that Lukaku already possesses the physical attributes as well as the finishing ability, it would be frightening to think how destructive he could be once such improvements are made.
Goalscoring machine
Lukaku's commitment to the long-term cause at Goodison Park remains in doubt, though what is certain is that, remarkably, at the age of just 23, the Belgian is fast becoming a goalscoring machine.
Lukaku's tally of 77 Premier League goals has already seen him overtake the likes of Eric Cantona, Luis Suarez and Paulo Di Canio and mostly during a time when playing in the Premier League was still a learning curve – a test Lukaku has passed with flying colours at such a young age.
And as he climbs up the list, Carlos Tevez, Cristiano Ronaldo, Fernando Torres and Dennis Bergkamp are the next to be passed by this rampant young striker.
To put his already remarkable maturity into context, only Wayne Rooney (86) had scored more goals at 23-years-old than Lukaku, whose record dwarfs Premier League 100 plus-goal strikers Sergio Aguero (23), Jermain Defoe (48) and Peter Crouch (11), as well as Thierry Henry, Ibrahimovic and Suarez at the same stage in their illustrious careers.
England's top-flight, famous for its ferocious physical intensity being challenging to adapt to, has rarely seen a striker with such a record at such an age and with as much left to give as Lukaku.
Everton have a gem on their hands, that's for sure.
Hard to hold on to
The Toffees face a challenge for the European spots this season but arguably a bigger task will be holding on to their star striker.
Club legend Neville Southall voiced his concerns back in November over Lukaku's future: "He's probably better off staying where he is and sticking with it. But he seems to think there is something else on the horizon and if somebody is continuously looking over their shoulder, then eventually they will go."
Indeed, Lukaku's continuous goal-scoring feats would likely attract a big bid in the near future.
Yet it would be a shame, not only for Everton, but for the Premier League in general, to see a striker with incredible, record-breaking achievements on the horizon leave before his name is really remembered.
Time will tell if Everton can fight off the admirers, of which there are many.
Standing out
Yet for all the talk of the current form of the likes of Ibrahimovic, Kane and Costa, it is Lukaku's feats that are standing out above the rest.
How many goals he scores in the future will depend on who he plays for and the system he works under.
Whether Lukaku adds the extra commodities of movement and hold-up play to his game remains to be seen.
One thing that is for certain, however, is that the goals will just keep on coming. And with that will come the recognition of being the Premier League's leading striker.
Written by Sean Wilson
Follow Sean on Twitter @WilsonFC2012
Like O-Posts on Facebook
You can also follow O-Posts on Twitter @OPosts