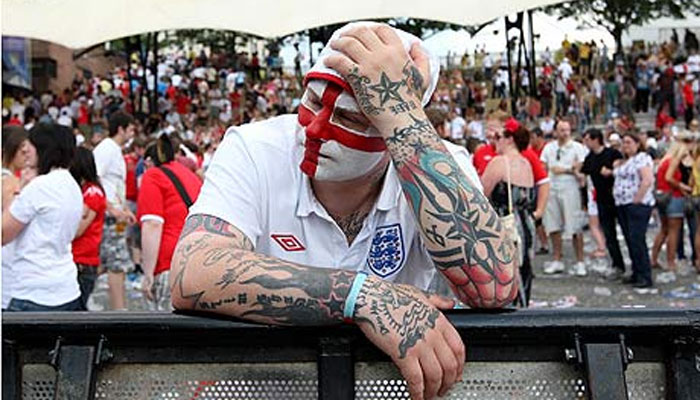 For years, we've been told time and time again that the Premier League is the best league in the world.
We can attract the best players around the world, the best managers and the competitiveness of all the teams is something that is unrivalled in Europe's top 5 leagues.
But, if you were to ask any fan in Europe's top 5 leagues whether they would buy a season ticket to watch any Premier League team, I can guarantee that at least 90% of them would say no. But why?
Lack of Atmosphere
The first and most obvious point is the lack of atmosphere in the Premier League.
If you look at the other leagues around Europe, you can name one team from each league who has an iconic atmosphere.
In Germany, you have the likes of Borussia Dortmund, Schalke and FC Köln. In France, you have Marseille and Saint-Étienne. In Italy, you have Napoli, Juventus and both Milan clubs. While in Spain, you have Atletico Madrid, Athletic Bilbao and Valencia.
However, if you look at the Premier League, can you really name a stadium that can compete with these European teams?
Sure, there are many stadiums where there is a lot of noise, the likes of Old Trafford and St. James' Park come to mind immediately, but they certainly don't compete with their European counterparts.  
A reason for this could be safe standing.
Ever since the tragedy that happened at Hillsborough, safe standing has always been a touchy subject around British football. I can certainly understand why some people are against safe standing in England mainly, as the memories of Hillsborough bring back horrible times for them.
But times have changed. Safe standing is a brilliant way to get fans more involved in the action. We see in numerous stadia across Europe a number of safe standing areas, and those areas produce the best of atmospheres.
We've recently seen in Scotland, that Celtic have introduced safe standing into one corner of Parkhead. Since it opened, there have been no issues of fans being hurt or injured in the area, and the atmosphere that corner of Parkhead generate is unlike any other in the UK.
Safe standing is certainly the way forward for British clubs, and once all British clubs know exactly what the advantages of safe standing are, I'm sure they will overwhelmingly vote for it.
Ticket Prices
Ticket prices in this country are ridiculous.
The average season ticket price in the Premier League this season is £488, which averages out at £26 per match.
There have been many articles saying that money has ruined football and that fans have been priced out of the game, and it's easy to see why compared with the rest of Europe.
Let's look at Bayern Munich, the biggest club in Germany.
Their cheapest season ticket is priced at £110. This includes all 17 of their home games in the Bundesliga, and to add to that, all 3 home group games of the UEFA Champions League.
It's a philosophy that most European clubs have, that fans shouldn't have to pay more and more each year, and eventually be priced out of football.
Especially with all the money each and every Premier League club gets from the latest TV deals and from various transfers and commercial revenue they make, fans should be paying a lot less than they should be!
We've seen various protests throughout the years by Premier League supporters about the ticket prices. One predominant protest was the '£30 is enough' protest, where various away supporters of Premier League clubs joined forces with the home supporters to show their distaste at the price of away tickets in England's top-flight division.
Eventually, as a result of the protest, all Premier League clubs decided to cap away tickets at £30, but still the prices are too high.
Clubs like Arsenal and Tottenham instantly jump to mind when discussing ticket prices. These are two of the biggest in the country, who generate an obscene amount of money, and the fact their ticket prices are as high as they are, is disgusting.
Fan Owned Clubs
One issue that has become incredibly important in British football is the issue of fan owned clubs.
Over the past few seasons we've seen many clubs who were once forces to be reckoned with, plummet down the leagues due to incredibly bad ownership.
The likes of Blackburn Rovers, Blackpool, Portsmouth, Leyton Orient, Nottingham Forest, Charlton Athletic, the list is endless!
Owners who don't have a real interest in football and a big interest in seeing their investment make a profit have run these clubs to the ground, and who will be the people that suffer the most? The supporters.
Again, British football can turn to their European cousins and look at how the fan ownership model is run.
In the Bundesliga for example, you have the '50+1 rule'. This rule means that fans will always be in control of their clubs and that owners and directors will not make the final decisions on key issues all the time.
A club that's taken this rule in their stride are St. Pauli. The Hamburg based club have a world renowned fanbase and they get to make the decisions.
From choosing the club badge, choosing season ticket and matchday ticket prices, supporting key issues in society today (supporting homophobia and refugees) and generally making sure that fans are never priced out of the club and will always have a say in every decision made by the club.
Unfortunately, we don't see many fan owned clubs in the UK, but the tide seems to be changing. We've seen many non-league clubs take up the fan ownership model.
One of the most well-known fan owned clubs in the UK are FC United of Manchester. FC United were formed by a group of Manchester United fans who didn't enjoy going to watch Manchester United at Old Trafford, so they decided to create their own club, where they got to make every decision, and FC United of Manchester have risen up through the leagues and now play in the 6th tier of English football.
It's clear to see what fan owned clubs do to supporters. It gives them a voice in critical decision making by clubs and it gives them a sense of belonging in the club, and this could do wonders.
Stadiums will be fuller; the atmosphere will be louder and it will make the players want to work harder for the clubs.
The Verdict
Compared to the rest of Europe, the Premier League fan experience ranks incredibly low, but this can easily change.
By implementing some small changes, it would bring back fans who've lost faith in how clubs are run nowadays.
Yes, fans have been treated incredibly unfairly in this country for too long, but I believe that a change is coming, and football will once again, be run by the fans, for fans.
Written by Sion Misra
Follow Sion on Twitter @sionmisra
Like O-Posts on Facebook
You can also follow O-Posts on Twitter @OPosts