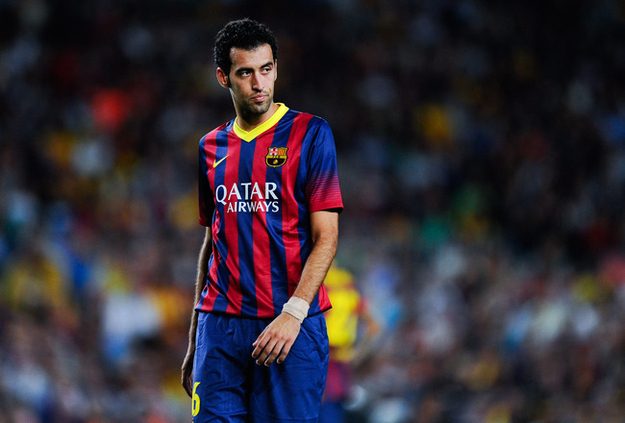 Andy's latest "The Madrid-Barca Axis" column. 
It is always better to work out weaknesses before being presented with an opponent who can exploit them.
Last Wednesday night Sergio Busquet's rather maligned start to the season was fully exposed by Pep Guardiola, the manager who first put him in Barcelona's first team eight years ago, and his Manchester City team.
His position within the squad is of no doubt and his overall importance to the club cannot and should not be underestimated.
The ability to shield the centre backs, maintain possession and start a great deal of the side's attacks has been his forte since breaking into the side.
There is nothing flamboyant or risky about the way he plays and the consistency that he has brought in this position has never been matched in recent times.
A pure Barca product
However, he is a player who is steeped in Barcelona's style of play, which has of course become Spain's, and adapting to new tactics and regimes might not be to his enhancement as a player.
Busi's ability to spot a pass and play a move or two ahead of most of those around him has enabled the likes of Xavi Hernandez, Andres Iniesta and Lionel Messi to have much more time on the ball to hurt the opposition.
It is a very rare skill that only the best players have and his vision was spotted early in his career by his opposing coach last Wednesday night.
Simple role under Guardiola
Initially under Guardiola, his role was very simple.
Protect the centre backs. Give the defenders and goalkeeper options to pass to you. Always retain possession. Keep it simple was the message and he executed it perfectly.
His touches and influence from 2008-2012 could be contained within a rectangle starting on the goal line and running to the edge of the opponent's centre circle and was as wide as the penalty area.
He was and is not a limited player but one tasked with being disciplined and it was one that he excelled in.
Over the next few years whilst playing and coaching staff came and went, his position within the side barely changed.
He was established in the team and his performances were always to a high standard.
Change of tactics under Enrique
Since the arrival of Luis Enrique the tactics have changed; not dramatically but there is less of a reliance on possession football and more of a need to get the ball to Messi, Neymar and Luis Suarez.
This is not a problem for him on a competence basis but is not necessarily the most effective tactic to get the best from him.
What allows Busquets to tick is the knowledge that alongside him he has skilled and highly technical players; players who when put under pressure or in tight corners can respond accordingly and maintain possession.
Arriving in a side and playing alongside Iniesta and Xavi you cannot ask for more.
On Wednesday night, he played alongside Andre Gomes and Ivan Rakitic, both of whom are superb players but are much more attack minded as a pairing.
In need of support
He needs more support from those around him and last week he seemed exposed and slow of mind which is unusual.
What it showed though is that whilst options have been added to the squad the side could struggle to cope if the reliance on Busquets diminishes for any reason.
In Javier Mascherano, the club have a more than able deputy but his appearances in defence for the club seem to suggest that he is not viewed as a player for that position.
Too many games
A couple of bad games do not change the fact that Busquets is an incredibly fine player. What it shows though is that physical demands placed upon players can have a negative impact.
Tactics at the club have not changed that dramatically but clearly playing almost 400 games over recent seasons might have slowed the brain down slightly.
In order to get the best out of a player so integral to Barcelona's style of play he needs to be looked after a little and rested on occasion.
Written by Andy Hunter
Follow Andy on Twitter @hunter67980
Like O-Posts on Facebook
You can also follow O-Posts on Twitter @OPosts