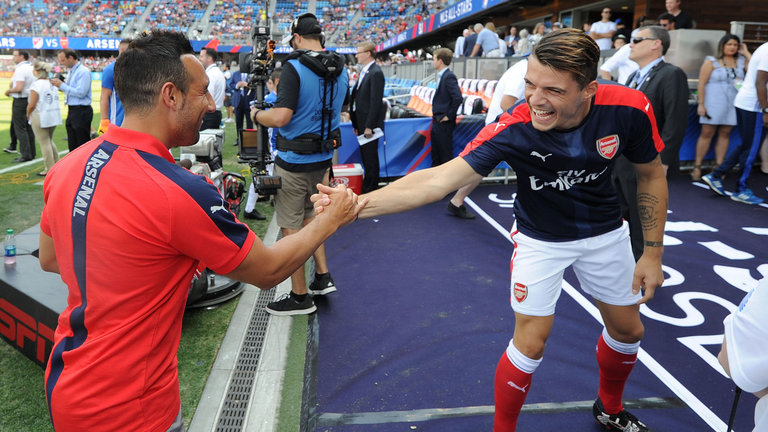 The length of Santi Cazorla's absence show just how essential he is to Arsenal's system.
The little Spaniard is a central midfield wizard. He's one of the few world footballers who is legitimately two footed.
On set pieces, depending on what the angles are; Santi can easily strike a ball on goal or deliver a cross with either foot.
Cazorla's most important attribute is his ability to keep possession moving vertically and squeezing out of tight midfield areas.
Arsenal have other players (whom I will discuss later) who are great keepers of possession, but they mainly move the ball horizontally, thus not penetrating the opponents defense.
Woefully under-prepared
On opening day of the Premier League season, Arsenal came out woefully under-prepared against Liverpool. After a sloppy performance from the Gunners, Liverpool left the Emirates with a 4-3 victory.
The starting central midfield pairing that day was Mohamed Elneny and the revived youth product Francis Coquelin, with star signing Granit Xhaka subbing on late for the aforementioned Elneny.
While this certainly was not the only issue on the pitch for Arsenal, it foreshadowed central midfield problems to come.
The previous two season's seamless partnership between Coquelin and Cazorla provided Arsenal with stability. This season, Wenger has preferred Xhaka in the deep lying midfield role with a myriad of players replacing Cazorla as the other central midfielder.
Over the season, Xhaka has really cemented his place in the squad.
Now we'll examine which players have partnered with him and how they have contributed to the inconsistency of Arsenal's central midfield.
Mohamed Elneny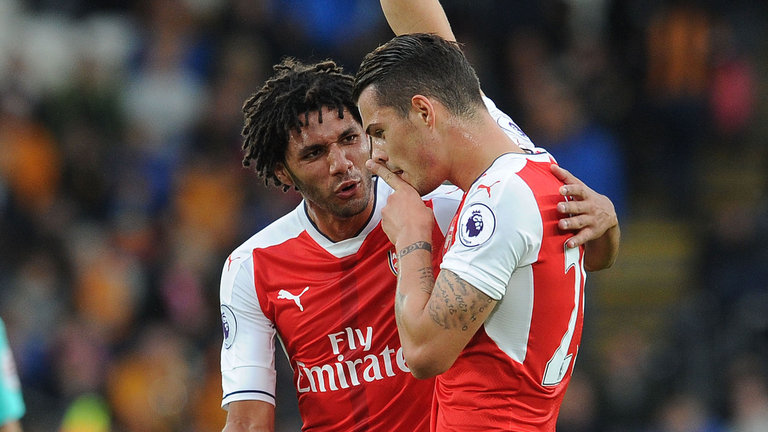 The 24-year old Egyptian was signed from FC Basel last January.
He was renowned for his fitness and energy levels. He's shown that over the course of the season.
Technically, he's decent and possesses a solid first touch.
How does he pair with Xhaka? The biggest issue in the Xhaka, Elneny partnership is Elneny's inability to stretch the back four and pick out deadly passes to the forwards.
He's excellent at retaining possession and cycling it through the back four and wide-men, but he mainly passes horizontally.
Since Xhaka is already lying deep, Elneny would be better served picking his moments to stride forward, but he lacks the skill and necessary play-making ability to really effect the game in that manner.
Therefore when these two are on the pitch together, Arsenal find it difficult to manufacture legitimate scoring opportunities, even though they have lots of possession.
Elneny can play deep as well and generally favors being more defensive, reinforcing the fact that he does not have the necessary attacking instincts to compliment Xhaka.
Francis Coquelin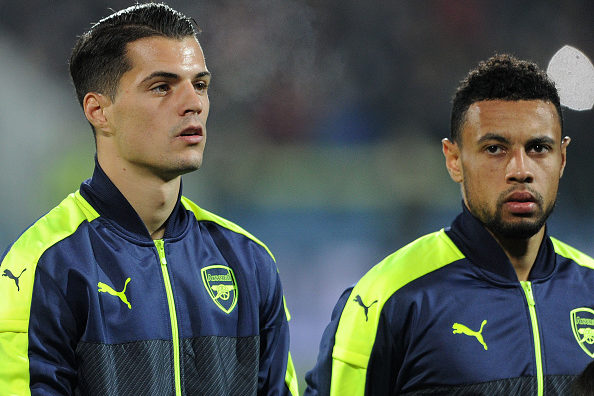 Coquelin has been somewhat of a revelation since returning from his loan spell. He's been played almost exclusively as a deep-lying defensive midfielder.
He's athletic and aggressive, unafraid of a strong challenge and in fact probably embraces it. He produces a decent ball-playing ability, but it's not his strong point.
His main deficiency is going forward. He's never scored for Arsenal. Most of his shot attempts, which are usually long range efforts, end up in the stands and looks very uncomfortable in the final third.
The problem here is similar to the previous partnership. Coquelin and Xhaka are simply too defensive.
The main difference however is they can both be overly aggressive players. Xhaka is a lot slower than Coquelin but he can be rash as well.
Their over aggressiveness often isolates the center backs they are supposed to be protecting. It provides the opposition with the opportunity to counter-attack.
Coquelin and Xhaka partnered together in Arsenal's recent win over Stoke, with Coquelin playing a more advanced role. It was his best performance in that position, really demonstrating solid passing skills without being rash defensively.
Coquelin provides the commitment and toughness Arsenal have lacked in recent years, which is definitely important.
Is he the long-term option in this position? Probably not, he looks like a decent squad player going forward.
Aaron Ramsey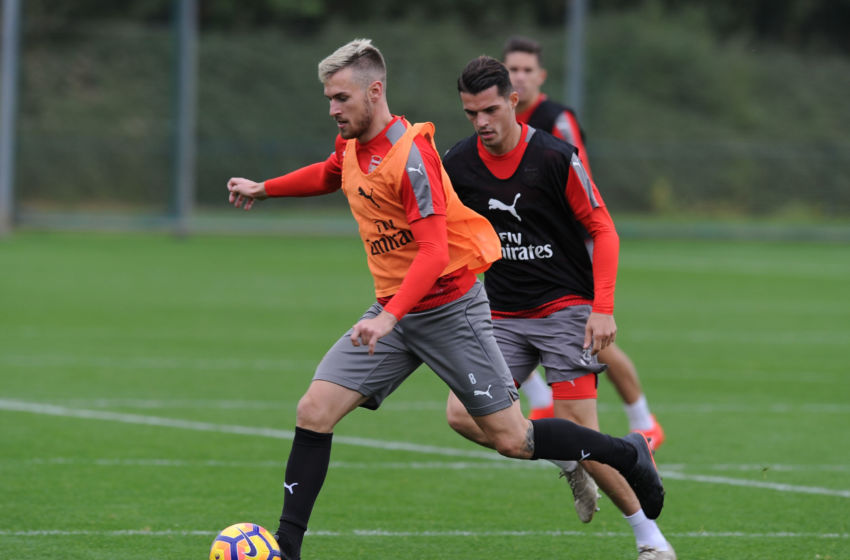 Ramsey should be the logical partner for Xhaka. He's got a good motor and is decent in possession.
He's shown great prowess going forward at times and is usually more effective in advanced roles.
Since Arsenal have switched to a back three, the Xhaka, Ramsey partnership has been rather successful.
Earlier in the season that wasn't the case. This can probably be attributed to general malaise of the team at the time, regardless— it was ineffective.
The attributes of this partnership compliment each other the best. When it's working, Xhaka can sit deep and pick out passes while Ramsey occupies the space between Xhaka and the forwards.
It seems Xhaka has realized he can't go too far forward when playing with Ramsey, as the Welshman often ends up in the box. The wing backs can chip in defensively by coming infield slightly to help reinforce the line in front of the back three.
When this partnership fails, it's when both players lose possession cheaply.
When Ramsey isn't in form, he gives the ball away a lot by over-dribbling or attempting difficult passes. You want players to go forward and take risks, but there's a balance.
When Xhaka was still finding his feet earlier in the season, an errant pass could be lethal when playing with Ramsey, because he would be so far forward that he couldn't track back quick enough and Xhaka's lack of speed made it difficult to halt the ensuing counter-attack.
This produces a very unbalanced partnership at times, but to their credit— they've been good as of late.
Once again, hard to tell if that is a long term plan. Their recent triumph may also be down to the change in formation.
It's also difficult to count on Ramsey for long spells considering his history of injuries.
Alex Oxlade-Chamberlain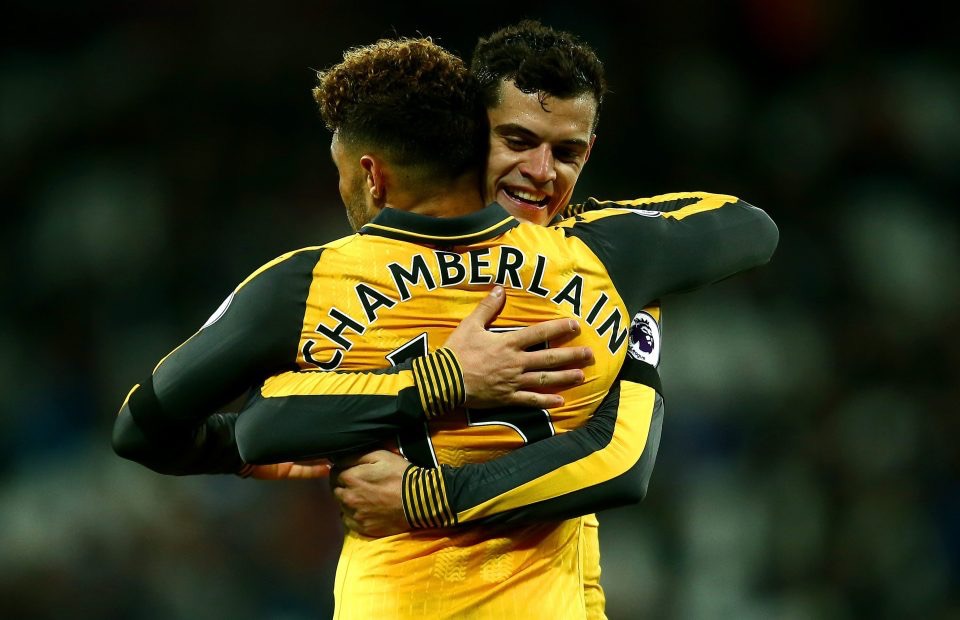 The Ox has played left wing, right wing, right wing-back and central midfield.
The main purpose for including him in this piece is the manager's comments about wanting him to end up centrally full time.
Although Chamberlain hasn't played as many matches as the others in a central position, it's still worth analyzing. He was a bright spot during some dark spots in Arsenal's season.
The Ox is technically very astute. He's also extremely athletic, possessing great pace and power.
This can be effective in the middle of the park. He keeps possession moving fairly well and can make penetrating runs through the middle, getting behind the backline.
His experience as a winger allows him to make runs around either outside backs and send balls into the box.
The Ox is definitely the best dribbler of this group as well. His deficiencies are similar to Ramsey's, though. At times giving possession away cheaply and putting the backline and Xhaka under pressure.
Although the sample size is small at central midfield, the Ox's finishing has always lacked in quality.
Arsenal really need more goals to come from central midfield. You don't really expect Coquelin and Elneny to contribute much in that department, but with Ramsey and the Ox— you do.
Ramsey has shown in the past he contributes goals when he's on a good run of form, the Ox hasn't shown us that yet.
Like Ramsey, it's also difficult to count on the Ox being fit for a full season. If Wenger does want to play him centrally, he should start sooner rather than later.
Jack Wilshere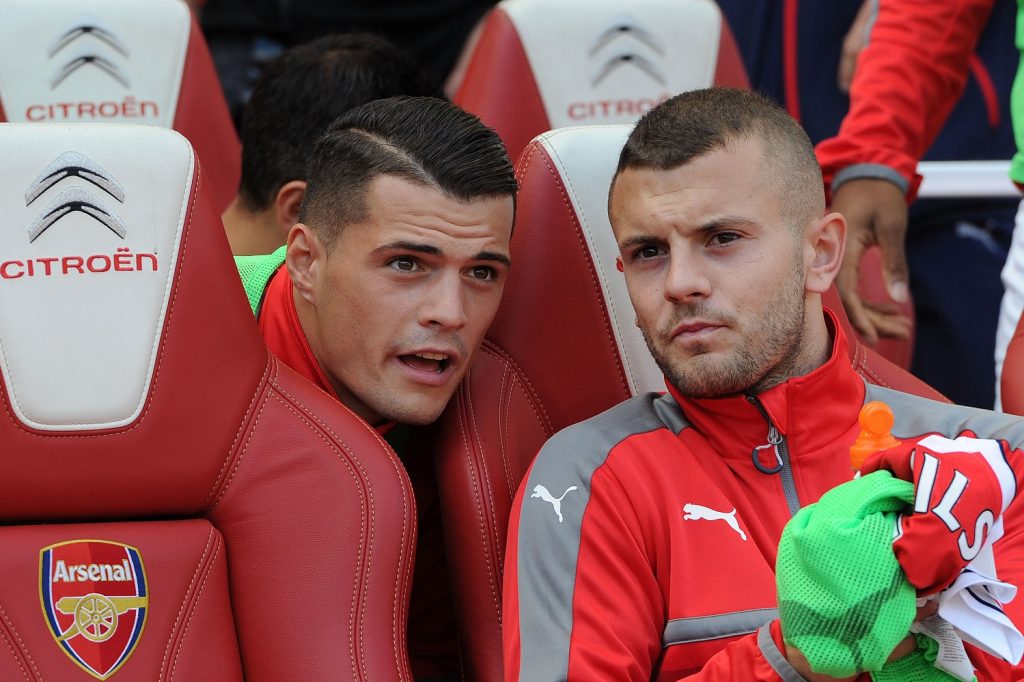 Although he's not at the club this season, Jack is worth mentioning.
I found it strange that Arsenal loaned out Jack. I figured at some point the annual injury crisis would hit and Arsenal would need the depth centrally.
Despite all his injuries, I also think he's a good player. It seems as if Jack might have forced the club's hand as Arsene couldn't guarantee the regular football he desired.
That's beside the point though. Jack could arguably be Xhaka's best partner. He's the most technical of the non-Santi Arsenal midfield options.
During his rise, he was seen as the beacon of a new, more technically fluid wave of English talent. He possesses a great left foot, that sees the ball stick without fail.
His tight control allows him to find his way out of tight spaces to open to the field for other players. He makes great charging runs forward and for his size is quite physical.
He's got all the attributes of a great midfield partner for Xhaka.
The reality is, Wilshere has been absolutely devastated by injuries. He didn't exactly set the world on fire for Bournemouth this season, although he did get regular football.
Unfortunately for Jack, his campaign was cut short by another season-ending injury. It's hard to predict what's its store for Jack.
The idea of him being a long-term partner is more a pipe dream. The Wilshere that would fit more with Xhaka is the one we saw in the 2-1 Champions League victory of Barcelona years ago.
Unfortunately and sadly, that Wilshere is long gone.
The Ozil discussion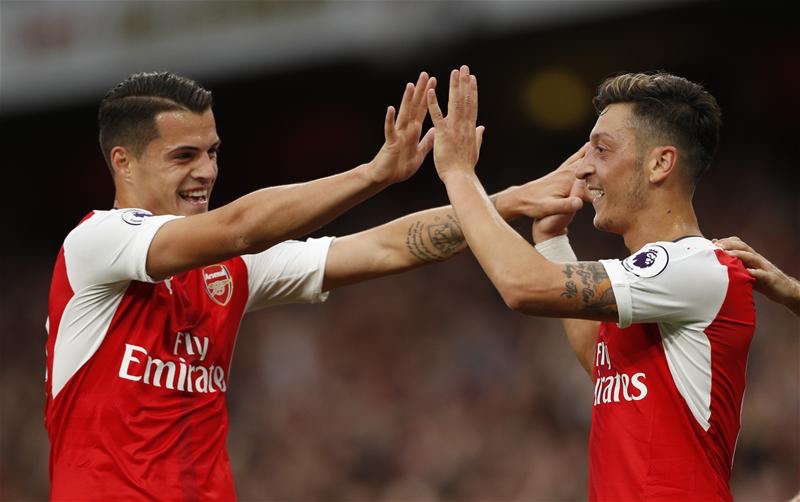 Mesut Ozil is also a part of this conversation. In the 4-2-3-1 he plays in the playmaking "10" role, thus making him part of the midfield.
He contributes next to nothing from a defensive standpoint which makes the functionality of the partnership behind him even more vital. In the new 3-4-3 formation Ozil has been playing wide right.
While he does cut it a lot and roams all over the pitch, he's not technically part of the midfield in that formation. No matter the formation, Ozil is never going to contribute a lot defensively.
That's something the manager needs to consider going forward while thinking about a midfield partnership for the future.
Xhaka throughout the season
If we're talking about his partner, we must also consider the man himself.
I've been impressed with Granit Xhaka's progression throughout the season. He's had some rough patches and some disciplinary issues, but he's overcome those and finished the season strongly.
For all intents and purposes he seems to be the long term option for the holding-midfield role.
He's an excellent passer of the ball, with a great left foot.
He's a little one-footed, as most lefties are— but it doesn't hamper his vision.
Since the back three started, he's played a lot passes to the forwards that have unlocked the opposing backline.
Defensively, he's okay. His tackling technique isn't great, but that will improve.
The main reason he gets himself in trouble defensively is his lack of speed. It's hard for him to recover, which prompts him to make rash challenges.
I do think in modern football an extremely athletic holding midfielder (i.e Kanté), is vital.
That being said, Xhaka's range of passing and technique is superior to most in his position. He also produces a great left-footed strike, which has produced a couple bangers for Arsenal this season.
Although he is the foundation of this partnership, his qualities, both good and bad— contribute to who is partner should be going forward.
Finding the right midfield partnership is vital
No matter the formation, this partnership is vital. It connects the back line and the forwards offensively.
It also mops up the inevitable mistakes as well as giving the back line the protection it needs.
The two central midfielders are also an important outlet for the back line when they're in possession. It's common for the deep lying midfielder to come and take the ball off one of the central defenders, turn and move the possession forward.
Theres's no doubt Arsenal miss Cazorla. He's a ridiculously technical player who can get the team out of sticky situations.
Not only that, but he provides playmaking ability, he's a quality set piece taker, has a goal in him, and is also a very efficient penalty taker.
A lot of Arsenal's problems in the midfield this season have been pointed at his absence.
Hard to rely on the Spaniard
While there is no doubt said absence heavily affected the set-up and shape of this squad, it cannot be an excuse. With his age and recent injury troubles, it's hard to count on Santi for the future.
Do Arsenal have the midfield options already in the squad to sow up the partnership going forward? Or do they need to reach out in the transfer market for a Cazorla replacement?
These things take time to become fluid and produce results over a lengthy Premier League season. If Arsenal are to make their first serious title challenge in quite some time next season, this partnership needs to be nailed on well before the start of next season.
Written by Kyle Keenan
Follow Kyle on Twitter @kyleskeenan
Like O-Posts on Facebook
You can also follow O-Posts on Twitter @OPosts