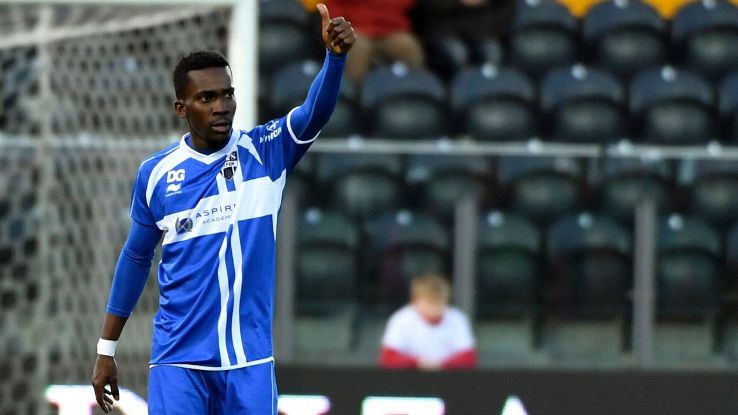 Arsenal signed the young Nigerian striker, Henry Onyekuru, for £6.8 million recently. The Gunners have reportedly beaten a number of clubs to land his signature.
Henry Onyekuru will be the first of more to come.
Personal terms have not been decided upon yet. However, the Nigerian starlet seems enthusiastic about moving to the English Premier League and playing for Arsenal. 
Breaking into fame in Belgium
The Eupen forward has enjoyed a breakthrough season in Belgium.
The 19-year-old came to fame when he was the joint-top scorer in Belgium last year. He scored 20 goals across competitions.
Onyekuru ended the season in Belgium on a strong note since he scored ten goals in 10 games during the play-off round in their domestic league and scored 12 times in the regular season. Onyekuru also recorded two goals in the Belgian Cup.
He has finally has had the chance to showcase his abilities to the coaching crew. They are considerable, as his output with modest Eupen no doubt attests: 24 goals and nine assists in 41 games across all competitions are eye-catching numbers for one so young.
The only player who scored more than him was Anderlecht forward Lukasz Teodorczyk.
In the 2015-16 season, the forward seemed in top form as he scored six times to propel Eupen's promotion to the top tier.
Onyekuru's position and best qualities
Onyekuru is swift, direct, and boasts incredible acceleration.
These qualities make him seem like a perfect fit in Arsenal's front-line particularly as Alexis Sanchez, and Mesut Ozil are expected to exit the club this summer.
Onyekuru can be positioned across the front-line but seems to be more best on the left where he seems most comfortable as he gets more time with the ball. It gives him the space he needs to go through the gears, as well as come inside on his stronger right foot.
According to Goal.com's Solace Chukwu: "He usually will receive the ball deeper and wider, and try to roar past his marker on the outside, before then cutting across him to get goalside. This means he cannot be stopped without recourse to a foul."
Onyekuru can quickly change direction due to a low centre of gravity. He has good close control, but relies more on his speed and trickery, often looking like he has shown too much to the opponent before snatching it away.
The teen thrives in one-on-one battles.
Arsenal is on the right track
Arsenal needs new exciting talents, and by signing Onyekuru, they are likely to be on the right track.
They have already beat competition from clubs like Everton, Southampton, Crystal Palace, West Brom and West Ham. Celtic were also looking at Onyekuru, but had an offer rejected for him in January.
Based on the standing of the Belgian league and Eupen one will see his excellence demonstrative of his ability to do even better at a higher level. We certainly will find out more soon enough.
Written by Jenna Marie Betz
Like O-Posts on Facebook
You can also follow O-Posts on Twitter @OPosts