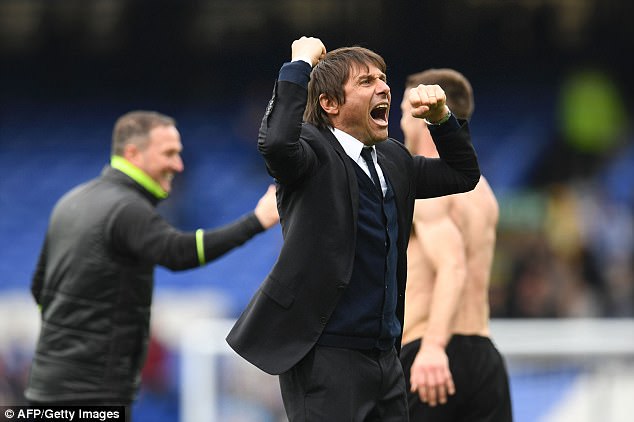 Everton were this past weekend on the battering end of an inspired Chelsea side eager to deliver Antonio Conte's first piece of silverware on English soil.
As ever so much over the course of the season, the Blues galloped past their opponents with effortless ease, registering a 3-0 victory over the Toffees at Goodison Park.
Chelsea's brutality has gathered combustible foresight as the season draws closer to the end: with the win being their third in quick succession since losing to Manchester United a fortnight ago.
Although the victory was a leap closer to securing their second Premier League title in three years, winning the most coveted trophy in England is easier said than done.
Unfavorable fixtures
For all the extensive, undeserved rest throughout the season, Antonio Conte bemoaned that his side could suffer from the clustered fixture list: more so with Tottenham, their nearest title challengers, playing at different times.
The Chelsea manager may have came off as a whiner, but the Premier League has over the years taught us that the preeminence of a clustered fixture cannot be underestimated.
Chelsea's games will be coming thick and fast with little time to recover, which may inadvertently favor Mauricio Pochettino's side.
Spurs on a spur
Tottenham Hotspur ensured they will, for the first time in 22 years, finish above Arsenal following an emphatic 2-0 win over their bitter North London rivals on Sunday.
Although they have been unable to stop Chelsea in their tracks, Spurs are currently playing some of the most thrilling football in the League: looking ever more like potential Premier League winners.
The North Londoners will hold onto the promise of a well rested squad with games few and far between: one that may be the definitive factor on the final day of the season.
Homestretch jitters
Chelsea look more than ready to claim the Premier League title, but jitters may creep in with clustered fixtures against West Brom, Watford and Sunderland.
Given the unpredictable nature of the Premier League, it only takes one stale draw to turn the title race on its head.
The crowning of a new Premier League champions may forcibly and inextricably wait until the final day of the season.
Written by Brian Humphrey
Follow Brian on Twitter @brihum
Like O-Posts on Facebook
You can also follow O-Posts on Twitter @OPosts