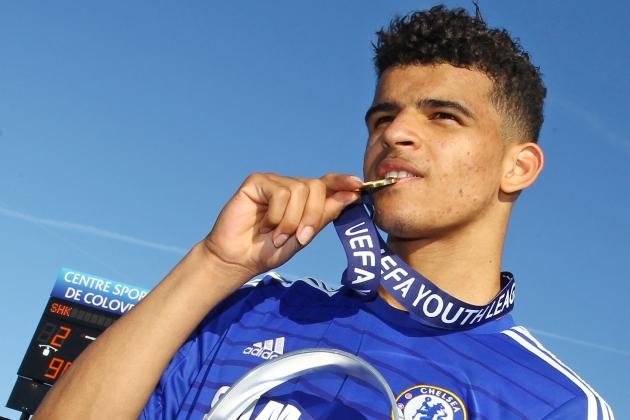 As expectant Liverpool fans scoured the internet for transfer rumours on Tuesday afternoon, they were in for a surprise or two.
Indeed, with optimists perhaps hoping for the likes of Pierre-Emerick Aubameyang, Virgil van Dijk or – that old chestnut – Marco Reus to be unveiled as Jurgen Klopp's new star signing, they were instead greeted by confirmation from the club's official website that Chelsea youngster Dominic Solanke is heading to Anfield.
It certainly isn't a bad move.
Klopp – not unlike Brendan Rodgers before him – has always shown an interest in promising young players. And the Chelsea man has definitely shown plenty of promise at the tender age of 19. But a Liverpool move has come somewhat out of the blue.
Added depth
It also hints at the Reds' possible transfer strategy this summer.
Yes, there is still the possibility of a marquee new striker turning up at Melwood – yet Solanke's switch may mean the exact opposite: Klopp trusting his current resources but simply adding another layer of depth.
A strikeforce of Solanke, Divock Origi, Danny Ings (who should return from injury next season) and Daniel Sturridge provides a very well-rounded proposition indeed.
If Klopp was more interested in a first-choice centre-forward, meanwhile, Liverpool's attention would surely turn to that first-choice striker well before the addition of a 19-year-old lacking Premier League experience.
Indeed, the Chelsea man's recruitment could well see the much-discussed Sturridge stay at Anfield.
Everything is still up in the air with the transfer window not even officially open, of course, but adding Solanke to Liverpool's attacking ranks has more of a feel of an understudy to it than Klopp identifying his new main man.
Subtle changes
Subtle additions such as this one create a sense of continuity.
At 19, the former Chelsea striker will likely see plenty of time on the bench – like fellow youngsters Kevin Stewart (23), Trent Alexander-Arnold (18) and Ben Woodburn (17) did last term.
That sends the right kind of message to Sturridge, Origi and Ings: that their places in the squad are not under threat if they can stay fit.
If all four manage just that, Klopp would be well placed to select those he feels most suit a particular match, with each of the four varying in playing styles.
Solanke's presence also eases the pressure on Sturridge himself to be fit every week, allowing the Reds more flexibility in terms of formations.
Good news for Sturridge?
The England man's issue has always been game time at Anfield and that won't change with the addition of Solanke.
But, as Sturridge's performance at West Ham showed, there is life in him yet within Klopp's system if he can remain injury free and give it his all. The addition of European football next campaign, too, will help.
The Chelsea youngster's arrival, then, feels like a boost for Liverpool both with or without Sturridge in the team – rather than him being a direct replacement.
Even as an understudy, Solanke may end up learning from someone else at Liverpool – but a shrewd and somewhat lower-profile move such as this one hardly screams a desire for total overhaul.
Crucially, Klopp seems keen to add in terms of depth and numbers – without tearing down the spine of his side. And that's great news for Sturridge: if he wants to stay.
Written by Timothy Poole
Follow Timothy on Twitter @TimPooleSport
Like O-Posts on Facebook
You can also follow O-Posts on Twitter @OPosts