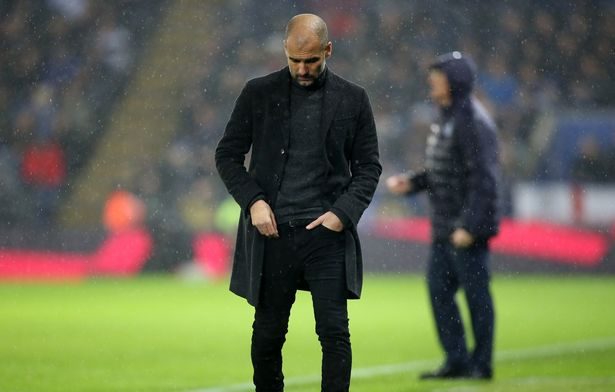 Coming after the 10 straight wins that opened the Pep Guardiola era, there was nothing significant to worry about from Manchester City's 3-3 draw at Celtic in the Champions League, but perhaps there was a warning when the Catalan walked into the dressing room afterwards to find his players so exhausted they could not talk.
Fernandinho, who has emerged as the central hub of Guardiola's midfield, said that his team-mates would struggle to keep up with the manager's demands for the rest of the season but the Catalan was dismissive.
"For the 90 minutes the players have to put in absolutely everything on the field. That's the most important moment in their lives" he said, "training is a part of it but the most important thing is the referee's whistle and you start to play."
Concerns
That concerns about Guardiola's high-intensity approach surfaced in late September were worrying and they appeared jaded in suffering their first defeat of the season at Tottenham 3 days after the exhilarating draw at Parkhead.
City have dropped 12 points in the 8 matches that followed the 2-0 loss at White Hart Lane and defeats to Chelsea and then Leicester have allowed the scepticism over Guardiola's ability to adapt naturally to the English game to re-emerge.
The argument ahead of his team's evisceration at the home of the champions about implementing more than 3 substitutes was reasonably well made, but it was hard to escape the feeling that it was self-fulfilling, a cry for help from a coach who is seeing his team struggle with the heavy workload he comfortably imposed at Barcelona and Bayern Munich.
Lack of trouble-free fixtures
Gone have the trouble-free fixtures that can litter the Spanish or German leagues to help facilitate the building of team chemistry or help his side to ease off the gas in between the more demanding Champions League matches.
Whereas once he was sending out Lionel Messi and co. to see off Granada or watching Arjen Robben, Franck Ribery and Robert Lewandowski tear Werder Bremen apart, he is now watching his team crumble in the face of Leicester's high-octane attacking in the rain.
This is the first time as a manager Guardiola has seen his team ship 3 or more goals in consecutive games.
Too many complications
The desire to over-complicate matters hasn't helped either with an insistence on a back 3, using players not used to the system, undermining their performances.
Guardiola saw fit to pay out nearly £50 million to land John Stones from Everton in the summer but at Leicester, as Jamie Vardy happily sped through the flimsy back-line to help himself to a hat-trick, it was hard to justify the sum.
Stones is undoubtedly a huge talent with time, still only 22, on his side as he seeks to realise his huge potential but you get the sense that asking him to anchor an alien system, with Bacary Sagna and Alex Kolarov, both full-backs in a 4-man back-line by trade, either side, is hindering his progression.
Nicolas Otamendi, who cost nearly £30 million in City's assembly of one of the most expensive defensive units in world football, was in place of Sagna in the match at home to Chelsea but could not deal with Eden Hazard just as Kolarov could not handle the electric pace of Willian on the other side as Antonio Conte's plan of ruthless counter-attacking put the game beyond their hosts.
The open-goal miss from Kevin De Bruyne whilst 1-0 up was costly and obviously would have changed the narrative had it gone in, but it must be apparent to Guardiola how his shaky defence is so easily sabotaging any encouraging attacking play.
A one-sided match with Middlesbrough ended in a frustrating draw as Martin de Roon ghosted in with a late header while draws with Everton and Southampton at the Etihad were rooted in the misguided command to play out from the back, with Stones again questioned for the latter occasion.
Bravo not so bravo
Behind the defence, Claudio Bravo has spread doubt with a series of uncertain displays after Joe Hart was dispensed in favour of his ball-playing skills in the summer.
Moments of madness, like his handball in the Nou Camp, have mixed with moments of the absurd, see the pathetic attempt to prevent Willian's goal in the defeat to Chelsea.
There was a large amount of sense as to why Bravo's comfort with the ball at his feet were chosen ahead of the long-serving Hart but now it appears inexplicable that such an authoritative and reliable presence was cast-aside in the dogmatic belief that passing out is the only way.
They seem to be problems of Guardiola's own making than any that have been forced on him.
Much-needed international break
As ultra-successful and trophy-laden as his management career has been, this represents a unique challenge for Guardiola having inherited Barca's wonderfully talented generation and Bayern's swashbuckling treble-winning team from Jupp Heynckes.
He is also, with the international breaks his friend up to this point, entering unchartered territory in the form of the congested winter period.
His team still remain fourth, only seven points shy of league leaders Chelsea and that they are second only to Liverpool in chances created and shots taken suggests that Guardiola's system has morphed them into a fluid attacking force, with the blistering form of Sergio Aguero and De Bruyne the continuous bright spots in a gradually troubled campaign.
The prospect of £27 million Gabriel Jesus's arrival, fresh from winning Player of the Year in Brazil after a superb year with Palmeiras, will also hand City a much-needed boost in January.
Of those already in Manchester, the battle with Yaya Toure and his agent has been won, Ilkay Gundogan has settled into his new surroundings well after joining from Borussia Dortmund but Leroy Sane, burdened by the £37 million price tag that followed him from Schalke, has required regular visits from his mother to help him adapt.
The drop in Raheem Sterling's form, irrepressible at the start of the season, also poses a puzzle for Guardiola to solve.
Such questions are getting louder and if they are not soon answered, City may quickly find themselves stranded.
Change is needed
The defence that appeared shambolic on Saturday evening will be the best place to start and that may require a change in approach for a manager whose methods have brought unprecedented success.
The Premier League has presented a challenge and Guardiola, this era's visionary and trailblazing coach, must evolve to meet it.
Written by Adam Gray
Follow Adam on Twitter @AdamGray1250
Like O-Posts on Facebook
You can also follow O-Posts on Twitter @OPosts