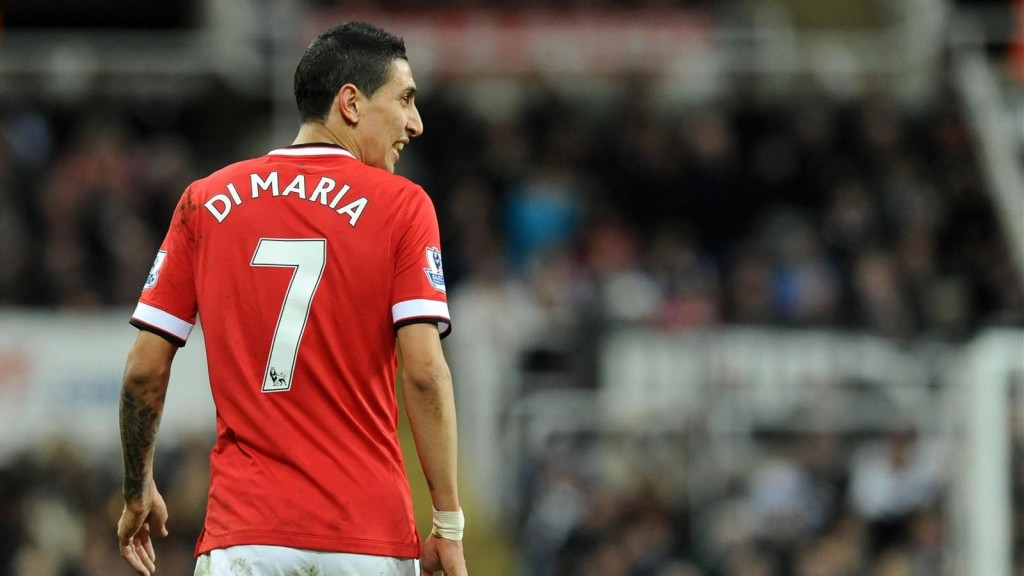 In the midst of the excitement borne out of the frenzy of free spending that has landed Manchester United Bastian Schweinsteiger and Morgan Schneiderlin, there is some warning to be found in the tale of Angel Di Maria that big reputations partnered with big fees will not always be the formula for success. A year since United shelled out a British record sum of £59.7 million for Di Maria, it seems that fresh interest from Paris St Germain may end his short-lived time in England.
Louis Van Gaal may be reluctant to admit his time with the winger, who was the headline of his first transfer window in charge, is up after just one season but the Dutchman, who has given indications to his ruthless streak by flogging his countryman Robin Van Persie to Fenerbahce, will appreciate that it is business.
Van Gaal's total summer outlay has neared £70 million with the signings of Memphis Depay and Matteo Darmian as well as Schweinsteiger and Schneiderlin, and with the potential of more to come, a reported £43 million sale will be an important recoup of funds. United's eye-watering revenue streams means Financial Fair Play regulations are never a concern at Old Trafford but a chance to balance the books will be welcomed as they look to fund moves for PSG's Edinson Cavani, possibly as a direct swap for Di Maria, and Valencia's Nicolas Otamendi.
PSG meanwhile have benefitted from the relaxation in the FFP ruling that prevented them from beating United to Di Maria's signature last year. UEFA sanctions handed to the French champions for breaking the governing bodies' rules on finances have been identified by Nasser Al Khelaifi, PSG's Qatari owner, as the main reason behind their failure to lure Di Maria directly from Madrid.
The announcement from UEFA president Michel Platini in May about the easing of those restrictions has permitted PSG to enter the market with the same aggression that previously snared David Luiz, Thiago Silva, Zlatan Ibrahimovic, Lucas Moura, Marquinhos and Cavani as their ambitious owners, the Qatari Investment Authority, sought to establish their club as a European powerhouse. Their refreshed spending powers has reportedly allowed them to offer Di Maria a package of the same £200,000-a-week wages he is currently on at United.
Their work in this summer's market has so far been slow, spending £7 million on Serge Aurier from Toulouse and £6.6 million on Eintracht Frankfurt's Kevin Trapp, deals offset by the £9 million sale of Yohann Cabaye to Crystal Palace. But a move for Di Maria will be a statement of intent in-keeping with their desire to make it deeper into the Champions League than the quarter-final stage that has so far been an impasse for the club under Carlo Ancelotti and Laurent Blanc.
Di Maria of course won that competition with Real Madrid only 14 months ago and was a vital part of his country's run to the World Cup final just a month later before injury robbed him of the chance to compete against Germany in the Maracanã showpiece. He moved to United as La Liga's leading assist maker and as the player Cristiano Ronaldo personally lobbied Florentino Perez not to sell.
Man of the match in the 4-1 triumph over rivals Atletico as Real brought home La Decima and a big part of the 2012 La Liga championship under Jose Mourinho having fought back from a difficult start to the season, Di Maria's stock was extremely high. His genius apparent, Van Gaal could justify all of the money it took to buy him.
Back then, that is. Di Maria ended his season of struggle at United with just one start in the last eight games after getting sent off for pulling the referee's shirt in an FA Cup tie with Arsenal. Before then hamstring injuries had blocked a promising start in which he was named player of the month for September and illustrated his vast talent with an audacious chipped goal against Leicester. Off the field, there was also the misfortunate case of his house being attacked by men with scaffolding poles.
Di Maria witnessed the incident with his wife and daughter who probably would have met with relief Van Gaal's announcement in May that he would be interested in selling the winger if he asked to leave. United's raft of new arrivals is likely to mean there will be a shift to a 4-3-3 and no room for Di Maria in the midfield role he prefers, leaving the position on the right-flank of an attacking trio where he will face competition from Juan Mata.
Though with 11 assists last term he was United's creative player and he remains for Van Gaal a vital asset who can dictate the pace of a game with his intelligence and guile, as he did in the away victory over Liverpool in which he produced a delicate lofted pass for Mata to dispatch the game's winning goal. He is still the player that can produce pivotal performances of the kind that guided Argentina past Paraguay in the semi-finals of the Copa America with a 6-1 win.
Though he limped off with injury in the final defeat to Chile, his two goals and an assist in the demolition of Paraguay posed a dilemma for Van Gaal as much as it would have attracted PSG.
With the Dutchman toying with the temptation to try and find a way of fitting Di Maria into his side and PSG looking for a replacement for Ezequiel Lavezzi who is set on a return to Italy, there are many questions to answer but with a hugely talented player determined to get his club career back on track at the centre of them all.
Written by Adam Gray
Follow Adam on Twitter @AdamGray1250
Like O-Posts on Facebook
You can also follow O-Posts on Twitter @OPosts