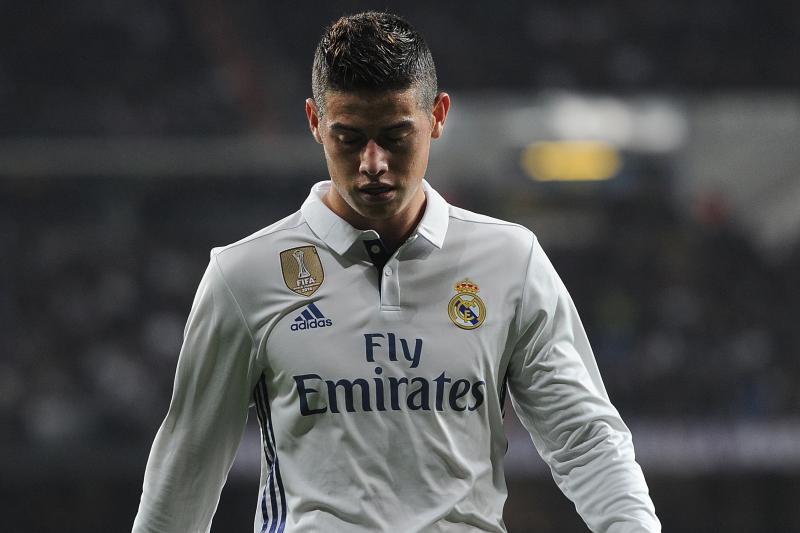 After a week in which Manchester United were heavily linked with a summer move for James Rodriguez, the Colombian playmaker did little to pour cold water over such speculation when he engaged in what felt like an emotional farewell with the Bernabeu on Sunday evening.
Rodriguez was substituted midway through the second-half of Real Madrid's final home match of the season and he made a point of applauding and waving to all four sides of the ground.
A visibly moved Rodriguez made his way to the bench shortly after with many in Spain suggesting that the visit of Sevilla will have in all likelihood been his final Bernabeu appearance in the famous white shirt of Real Madrid.
A favourite destination
Manchester United have long been the destination that many exiting Real Madrid stars have looked towards, particularly since Sir Alex Ferguson's departure in 2013.
Angel Di Maria made the move to Old Trafford in 2014 but endured a miserable single season in England under the stewardship of Louis van Gaal.
There is always suspicions over the signing of players from one of Spain's big two clubs, surely if a player fails to succeed there then he isn't the sort of personality England's bigger teams should be looking towards? This is of course an unfair observation and players must be analysed on an individual basis.
Di Maria arrived in Manchester at the very top of his game. He had been the driving force of Carlo Ancelotti's midfield the previous season and had even been presented with the prestigious Man of the Match award in the Champions League final.
He went on to enjoy a productive World Cup in Brazil where he helped Argentina reach the final and it was merely a case of Florentino Perez needing to cut an attacking player from the Real Madrid team to make way for his next 'Galactico' signing which was to be none other than Rodriguez himself.
An ailing United pounced, desperate to show their muscle irrespective of a failure to qualify for that season's Champions League and the former Benfica winger was heralded as the next king of the Stretford End.
Cautionary tale
Now there were mitigating circumstances which contributed to Di Maria's abject failure in the Premier League but he still remains a cautionary tale as United move forward with Jose Mourinho.
Initially he was outstanding as he carried his outstanding Real Madrid form to Manchester with him. He looked sharp against Burnley on his debut, ripped Leicester City to shreds and downed Everton almost singlehandedly within his first two months.
A shift in tact from Louis van Gaal and a domestic burglary sent the midfielder's career in a different direction and before the beginning of his second season he had joined Paris Saint-Germain for a reported £15.4 million less than the fee Ed Woodward forked out less than 12 months earlier.
Mistrust and questions over the Colombian
Rodriguez's situation is slightly different in the Spanish capital.
Zinedine Zidane has never fully got to grips with the Colombian and from the outside looking in; it appears as though he doesn't trust him. Rodriguez has been used sparingly throughout the Frenchman's entire period in charge with Isco, Marco Asensio and Lucas Vazquez often preferred.
The former Monaco star has seen his opportunities limited to when Real Madrid are forced to rest players through fixture congestion or matches against perceived lower opposition.
At present the 25-year-old looks motivated to play and that should attract Mourinho, but it hasn't always been this way.
Under Rafa Benitez's stewardship and in the early months of Zidane's tenure Rodriguez struggled with his weight. Of course this was within the confines of a footballer's acceptable weight not the everyday person but by a professional standard he was overweight.
On paper this shouldn't be a concern with some of United's finest players of this millennium often facing similar issues. Wayne Rooney and Carlos Tevez both fought against weight gain when afforded an extended break from football.
The difference between the former United pair and James Rodriguez is a natural body type. Rooney and Tevez are both powerful individuals with a large natural build; it isn't difficult for them to put on weight.
Rodriguez is naturally athletic so for him to struggle with weight should send alarm bells ringing with regards to professionalism and work ethic when not part of the first-team.
To his credit this is an issue which he appears to have left behind this year as the battle for his place at the Bernabeu has intensified, but Manchester United are in such a precarious position at this moment they can't afford to take risks with signings.
Pogba needs help
Mourinho's first season at Old Trafford could realistically end with the club having lifted two competitive trophies as well as securing a direct place in the group phase of next season's Champions League.
The elephant in the room however is the club's domestic form and likely 6th placed finish. It hasn't been anywhere near good enough for the most part and the club cannot afford to carry anyone next season.
Mourinho has tended to rotate players this season with the role of an attacking playmaker just behind the centre-forward having been one without a guaranteed incumbent.
Juan Mata has been asked to play mostly out wide whilst Henrikh Mkhitaryan and Jesse Lingard have swapped positions frequently.
There is a position there for Rodriguez but he would have to be a consistent performer, especially if Antoine Griezmann does in fact arrive from Atletico Madrid.
Manchester United have had little trouble creating chances this season but converting them has been another story entirely. 10 draws at Old Trafford is a stat that sums up the club's season and it has often fallen on Paul Pogba to carry the team creatively.
This is where a move for the Colombian playmaker begins to make sense with it glaringly obvious in recent weeks that there needs to be less of a gap in talent between the world's most expensive footballer and his Manchester United teammates.
James is extremely talented, but will he turn up?
It is hard to argue against the fact James Rodriguez is a world class footballer who is capable of great things, the worry Manchester United should have though is whether or not that is the James Rodriguez they would in fact be getting.
Written by Chris Winterburn
Follow Chris on Twitter @Chriswin4
Like O-Posts on Facebook
You can also follow O-Posts on Twitter @OPosts