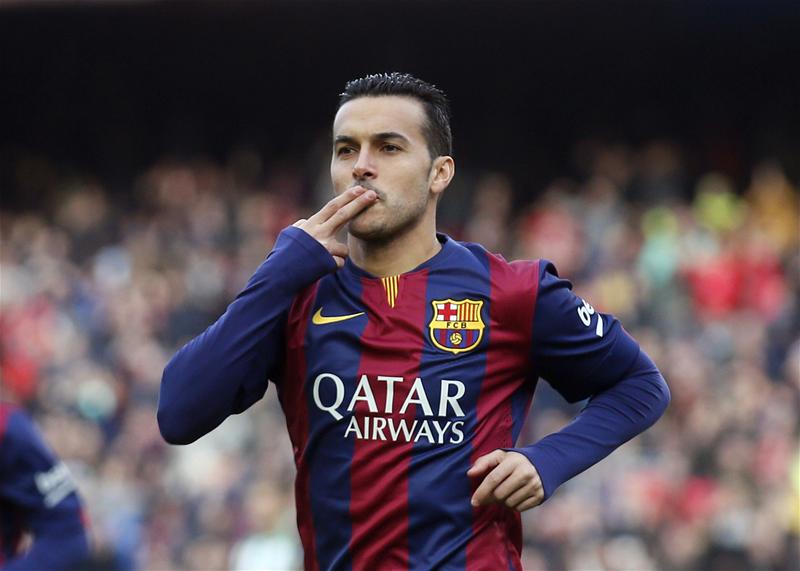 With talk of a mutually-agreed reduction in his release cause and interest from the Premier League, it looks like the former jewel of Barcelona's famed La Masia academy is set to leave the club. The Canary Island-born player is rumoured to be a target of Manchester United boss Louis van Gaal but does he have what it takes to make it in the Premier League?
Pedro's quality cannot be denied; the player featured regularly during the most successful period in his current club's history and also helped his national team to unprecedented glory. However, he has never quite established himself as the world class player that former coach Pep Guardiola had hoped he would become.
He has skill, pace, great passing ability and an eye for goal. He is renowned at the club for his discipline, work ethic and commitment to the greater cause of the team, and he has never rocked the boat despite being drafted in and out of the first XI during the last few years.
When he was at his best, there were few players in the world as consistent as the 28-year-old; but the player that cost nothing has somehow become a bit-part player at Barcelona. During the 2009-10 La Liga campaign, the club had just recruited Zlatan Ibrahimovic and still had Thierry Henry on the books, but Pedro managed to force his way into the first-team and made 22 starts.
The following year, the Swede and the Frenchman were both shipped out and Pedro had perhaps the best season of his career, epitomised by his goal in the 3-1 Champions League final victory against Manchester United.
Along with Lionel Messi and David Villa, Pedro formed a deadly triumvirate that at times looked unplayable. However, the young prodigy lacked the marketability of his strike partners and Barcelona always seemed to be looking for a superstar replacement. In 2011, the highly-rated youngster Alexis Sanchez arrived from Udinese but ultimately failed to live up to the hype. Two years later, the enigmatic Neymar joined the Blaugrana from Santos in Brazil and then last summer, controversial Uruguayan Luis Suarez was signed from Liverpool in a bumper deal.
With an attacking force now made up of world class marketable talent and with Arda Turan due to arrive from Atletico Madrid; it seems that Pedro will have no choice, but to leave if he has any desire to be anything other than a bench-warmer.
If Pedro does make his way to the Premier League, there is no doubt that he still has the ability to terrorise defences with his tricky wing play. He knows how to press better than most forward players and ever since he scored his debut goal against Almeria in October 2009; he has never lost his eye for goal.
Pedro is a genuine talent who has unfortunately become the victim of circumstance at a club that in recent times has become pre-occupied with buying superstars rather than developing their own graduates.
Whoever lands his signature, will have one hell of a player on their hands.
Written by Neil Morris
Follow Neil on Twitter @nmorris01
Like O-Posts on Facebook
You can also follow O-Posts on Twitter @OPosts