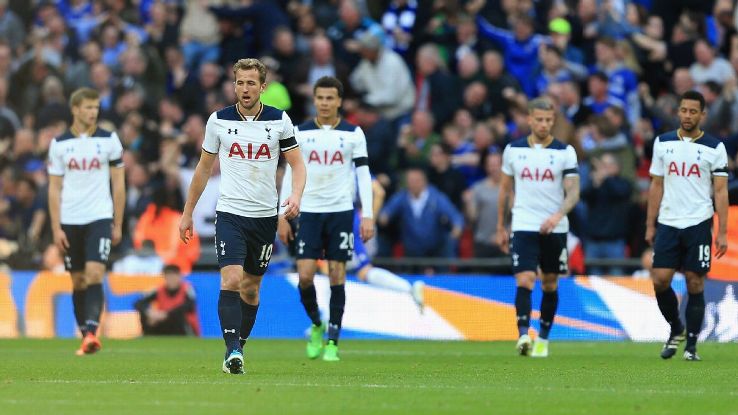 When were Spurs first? Never.
Tottenham Hotspur went on a 9 game win streak in the league from the 4-0 demolition of Stoke City on the 26th of February, to the 1-0 upset by West Ham on the 5th of May, undoubtedly a run of results worthy of a league winner, yet still Chelsea maintained a 7 point gap at the top.
What does that say? Chelsea got lucky by goal difference? Chelsea had an easy run of fixtures? No.
Chelsea were better and more consistent throughout their Premier League campaign? Yes.
Chelsea have not had a problem with injuries towards player in their first team, they have lost 5 games as opposed to Spurs' 4 in the league, "but" have drawn significantly less.
You know who else lost only 5 games?
Manchester United, which made them the king of "drawing" in the league with 15. Spurs' record with United is 1-1 in the league, exchanging wins at their respective home grounds.
Where were Manchester United in the title race?
Never in the thick of it in the first place
Now chaining results is the most unreliable way of comparison and yes Tottenham have had a massively better season than Manchester United, but that's not the point here.
Yes, Spurs were good there is no doubt about that, maybe even the best in the league during that 9 game win streak, but it does not mean they got robbed of the title… especially when they never had it in the first place.
It was the loss and the draw against Leicester, the goalless draw against relegated Sunderland among other needless draws against inferior teams which sent the consistency of Spurs astray.
This is also the story of Manchester United but double it, then triple it.
Even United's unbeaten run was more note-worthy
United had an unbeaten streak from the 29th of October all the way until their recent loss against Arsenal (7th of May) which broke the run of 13 wins and 12 draws.
It is worth mentioning during this run they had a spell of 6 wins on the trot starting from a 1-0 win against none other than Tottenham on the 11th of December ending with a (1-1) draw against Liverpool on the 15th of January, but still their story ends with them in 6th place.
The conclusion here is that Spurs had a good season and they deserve the plaudits and the glory… of second place because Chelsea were better.
Written by Joshua Arnup
Follow Joshua on Twitter @JoshArnup
Like O-Posts on Facebook
You can also follow O-Posts on Twitter @OPosts