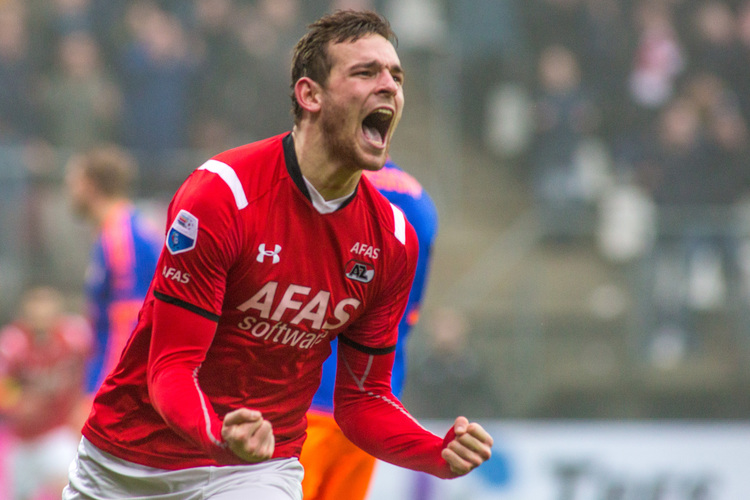 Tottenham Hotspur managed to shock everyone in their recent Premier League campaign of 2015/2016, as the club from London managed to finish a strong 3rd position in the league table. With all the efforts from hardworking manager Mauricio Pochettino, it finally paid off and now Spurs are seen as a team who are even willing to fight for the Premier League title for the upcoming season.

However, the Lilywhites should dig deep into their pockets and look for some strong signings as the Premier League is going to be no child's play from next season.
Incoming managers like Pep Guardiola, Antonio Conte and Jose Mourinho are the specialists in what they do and due to their vast experience; the league competition is surely going to see some big money signings in order to win silverware.
Tottenham Hotspurs haven't really been active till date in this transfer window but it seems to change in the coming days as AZ Alkmaar's hitman Vincent Janssen edges for a move closer to the White Hart Lane.
A wanted man

Vincent Janssen is one of the most wanted young prolific strikers available in the transfer market and Spurs seem to lead the race of securing his services after rumours have it that AZ Alkmaar has granted permission for the 21 year old to hold talks with Tottenham.
The fee is reported to be at a steal price of just £12 million, keeping in mind that the Dutch striker has netted a staggering 27 goals in 34 matches in the Eredivisie last season.

According to The Guardian, Janssen arrived in London on Tuesday to hold talks with Tottenham as Pochettino's side are the first ones to contact the player. Sky Sports have also confirmed that Spurs are in talks with AZ Alkmaar striker Vincent Janssen.
Despite interest from other top clubs like AC Milan, Wolfsburg and Atletico Madrid, Janssen has set his sights for the London outfit and both the club and the player are very interested for the move. Pochettino was present at the Holland vs Ireland match where Janssen played last month and has been keen since then.
Eredivisie clubs like Ajax, Feyenoord and PSV Eindhoven also are eager to snap up the player and keep Vincent in his homeland, which is very unlikely to happen as the player would prefer to strengthen Mauricio Pochettino's side for the Premier League as well as for the Champions League.
White Hart Lane is in desperate need of a striker as transfer talks suggest that they are also linked with Alexandre Lacazette, Michy Batshuayi and Saido Berahino. It would be clever of the Spurs manager to clinch Janssen as he comes at a comparative cheaper price and at a very young age.
Qualities

At just the age of 21, Janssen still has raw potential which can be developed to create a future star and Spurs are also known to have a young side which will help the Holland international.
Not only at club level, but Janssen has netted in three of his last four international matches, those coming against Poland, Austria and England at Wembley.
The number 18 of AZ Alkmaar is very strong when it comes to finishing and a nuisance to the back line when it comes to getting him off the ball.
A very attacking minded player, who likes to play long balls and isn't afraid to play the ball off the ground.
Lethal partnership
Tottenham already boast the prolific goal machine Harry Kane in their squad, who played in all 38 matches of the Premier League and won the Golden Boot with 25 goals in those matches.
The addition of Vincent Janssen will be lethal and deadly for defenders to face in the Premier League if Pochettino is successful in getting hold of his bargain signing.
Written by Tejas Shetty
Follow Tejas on Twitter @shettytj
Like O-Posts on Facebook
You can also follow O-Posts on Twitter @OPosts
ALSO: Please take the time to participate in our England jersey giveaway. More info here via this link.