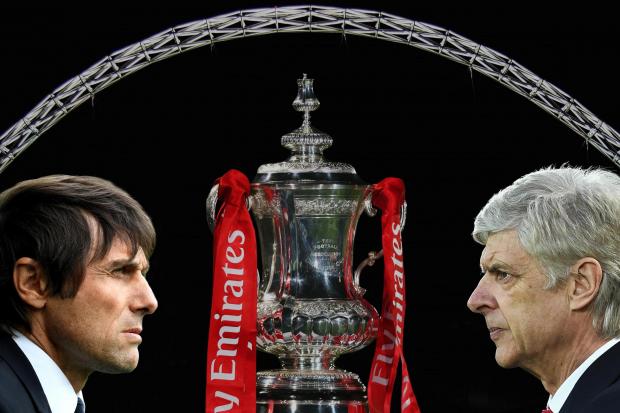 Founded in 1871, the FA Cup is known for moments of brilliance, upsets, and traditions in English football.
736 clubs participated in this year's competition and two remain standing waiting to take on each other in the final this upcoming Saturday at Wembley Stadium.
Arsenal vs Chelsea: Two rich clubs. Two iconic clubs. Two London rivals. Two talented clubs. Two clubs headed in opposite directions after this past season.
But what exactly does lifting the FA Cup mean to both clubs going forward?
Chelsea
For Antonio Conte's Blues, lifting the FA Cup is the cherry on top of the already extraordinary season—basically everything is awesome.
Following the failure of the season before by finishing 10th in the Premier League, this season was everything a Blues supporter could have hoped for and more.
They won the Premier League with ease. In fact, it was historic as they are the first club to win 30 games in a single season matching the record for most consecutive wins in a single season at 13.
They simply dominated the English Premier League.
For the club officials, coaches, and players, it will only add to everything they have worked for. Antonio Conte's legacy grows, the club's domination over the last decade grows, and their cash revenue grows.
Just the cherry on top
If they prevail over rivals Arsenal, it would be major trophy number 15 since Roman Abramovich took over—most of any English club in the same time frame.
For fans, it is just another excuse to celebrate by drinking, singing, and gloating at work.
They will also end the season on the highest of highs, and begin the summer transfer window and pre-season feeling good. Completing the double will only aid in attracting the world's finest talents.
Most importantly, they will have all the momentum among England's big six going into next season's Champions League and domestic play.
Losing will leave a sour taste
If they were to lose the final, it would raise questions about whether Conte's 3-4-3 is really an effective system and how tactically sound it is going to be in Europe.
It would also slow down Chelsea's momentum going into the summer transfer window and ahead of next year's Champions League play.
Lastly, losing to Arsenal would just sour their historic Premier League title.
There is no pressure on Chelsea, but losing the final will do more harm than good, especially against their bitter rivals.
Arsenal
If it goes Arsene Wenger's way, this could be Arsenal's third FA Cup in four years—not a bad accomplishment.
Arsenal would even be the third top flight English team this season to lift a piece of silverware after Chelsea and Manchester United—one more than Tottenham, Manchester City, and Liverpool.
And they get to end their disastrous 2016-17 campaign on a tiny "high" note.
Win won't mask their issues
However, winning the FA Cup will not bring any clarity to the club's future and erase the fact that they finished fifth, missing out on Champions League football.
Their heartbeat, Alexis Sanchez, is reportedly headed for an exit. And clashes between Arsene Wenger and the supporters, club owners and board, and among supporters themselves will continue on throughout the summer and into the next year.
All it does is add another trophy to Arsenal and Wenger's trophy cabinet.
Rather than celebrating three in four years, there will be a lot of "what ifs." Winning the FA Cup over rivals Chelsea will only mask the issues Arsenal have.
If they were to lose the final, it would only be the cherry on top of their disappointing, rubbish, and underwhelming 2016-17 season.
First, it was crashing out to Bayern Munich in the round of 16 the Champions League on an aggregate of 10-2. Then finishing below Tottenham for the first time in over two decades. Followed by losing out on Champions League football for next season by finishing fifth.
Crippling
In fact, losing to Chelsea could cripple the club for years to come because the entire world, including footballers, will watch and read about the game.
Many big names or talents might look at the club differently after losing out yet again and wonder why would anyone want to play for this club? There will be many more questions raised by supporters and pundits about Arsene Wenger, the ownership, and the commitment to truly win.
For the Gunners who start, their ability to play and desire to win will be under the microscope. No good comes out of losing against London rivals Chelsea. Nothing good at all.
Losing the final will not be the beginning of the end, but the end of the end. Arsenal Football Club has hit a critical point in its history. Arsenal must win this trophy on Saturday.
But who knows?
Who knows what will happen in the final. The FA Cup is magical.
But one thing is for sure, Arsenal are under way more pressure and the clear underdog on Saturday.
Written by Steven Jotterand
Follow Steven on Twitter @StevenJotterand
Like O-Posts on Facebook
You can also follow O-Posts on Twitter @OPosts