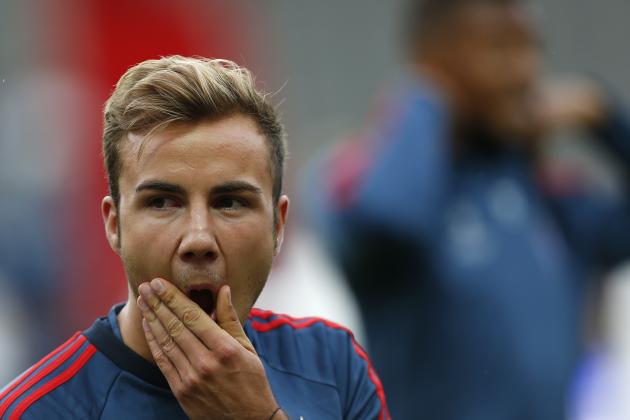 Arsenal look set to have their most active transfer window in numerous years as Arsene Wenger attempts to find the formula needed to end the club's Premier League title drought and be more competitive in Europe.
One player linked to the club is Bayern Munich's Mario Gotze.
The man who scored the decisive goal in the 2014 World Cup final hasn't enjoyed the best of seasons with Bayern and has frequently drifted in and out of the side.
Having been close to a regular in his first two seasons at the club when he furthered his reputation as an exciting attacking midfielder capable of scoring plenty of goals with 15 in each campaign, Gotze hasn't reached anything like that level over the past 12 months.
He's featured as central striker and on either flank for both club and country in recent times, but has the feel of someone going through the toughest patch of his career so far and the suggestion in Bavaria seems to be that he could be set for the Allianz Arena exit door this summer.
Problems
Gotze is said to be open to joining Arsenal and while he would represent a real marquee signing for the club, you have to wonder if he is really what the Gunners need right now.
One of the problems with Gotze is that it's still not abundantly clear what his best position is. It's hard to see him flourishing in the Premier League as a central striker as he has done for Germany at Euro 2016 given he is only 5 foot 9 and although no slouch, doesn't possess blistering speed.
Mesut Ozil is Arsenal's undisputed playmaker and first choice attacking central midfielder and there is no real danger of Gotze displacing him even though that is perhaps the younger German's best position too.
Alexis Sanchez meanwhile will certainly occupy one of the wide roles which would leave Gotze most likely slotting in wide on the right for Arsenal were he to sign, a position he took up just twice for Bayern in the season gone by.
He could also be employed as one of the holding midfielders but would most likely be paired with either Aaron Ramsey or Jack Wilshere, which would leave Arsenal again a little bit lacking in physicality in the centre of the park.
Gotze is not a dissimilar player to Ramsey in that he can play multiple positions and his best asset really is scoring goals from midfield positions although like Ramsey question-marks remain about other aspects of his game, though perhaps not quite to the same extent.
Not a top priority
The German has been more impressive overall and certainly more consistent over a longer period of time however when there are other areas of the team that are in clear need of improvement, forking out a sum of £30million or more for Gotze shouldn't be considered a top priority.
Although they now seem more willing to splash the cash, like all clubs Arsenal do have a budget and until they have secured players in those key positions that need improving, there is no sense in buying a player who doesn't naturally slot into the team and is a bit too similar to what they already have.
If there is money left after defensive and attacking reinforcements have been secured, then Gotze would make a nice addition and would be a further signal of Arsenal's intent and capability of attracting the top players.
However, for now he should not be a top priority as he wouldn't significantly improve the starting eleven in the same way a dominant central defender or clinical striker would do.
Written by Mark Sochon
Follow Mark on Twitter @tikitakagol
Check out his brilliant blog on all things La Liga, Tiki-Taka-Gol!
Like O-Posts on Facebook
You can also follow O-Posts on Twitter @OPosts